Ukraine to receive Rheinmetall's Caracal air assault vehicles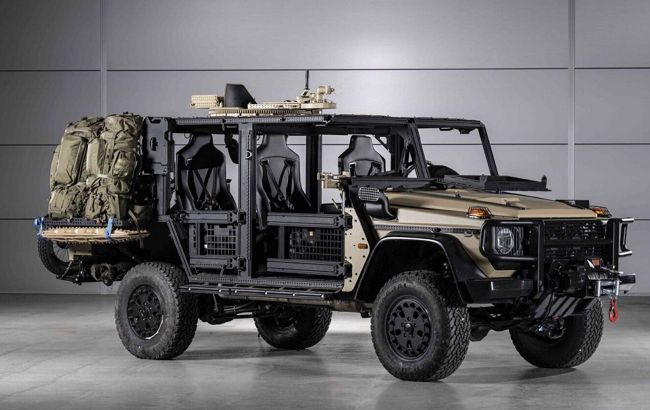 Air assault vehicles Caracal (Photo: rheinmetall.com)
The German company Rheinmetall plans to supply the Ukrainian Armed Forces with air assault vehicles Caracal, reports Rheinmetall.
It is planned that Ukraine will receive five of these transport vehicles by the end of this year or at the beginning of 2024. Most likely, Ukraine's Special Operations Forces or Special Purpose Units of the Defense Intelligence will use them.
It's worth noting that Ukraine will be the first country to use these vehicles.
Caracal is a tactical air assault vehicle based on the civilian off-road Mercedes-Benz G-Class. The vehicle's design allows for transportation both in internal cargo compartments and on external suspensions of helicopters such as CH-47F Chinook and CH-53K King Stallion.
Additionally, Caracal can be equipped and fitted with various weaponry, ranging from machine guns to anti-tank missile systems.
These vehicles were first showcased at the DSEI defense exhibition in London in 2023. Rheinmetall, Mercedes-Benz, and Armed Car Systems collaborated in its development. The company has already received orders from Germany and the Netherlands for 3,058 vehicles with a lifecycle support of over 20 years.
Main specifications of Caracal:
Length: 4.7 meters
Width: 1.8 meters
Height: 1.85 meters
Weight: 4,900 kg
Payload: 2,000 kg
Engine power: 249 hp
Rheinmetall's arms supply to Ukraine
The German corporation Rheinmetall is involved in several projects supporting Ukraine, including supplying infantry fighting vehicles Marder, ammunition of various calibers, field hospitals, military trucks, and soon the reconnaissance system LUNA Next Generation.
Moreover, this company is a partner in several multilateral agreements like Ringtausch. This procedure, developed by the German government, is aimed at supporting Ukraine in collaboration with European neighbors of the FRG and NATO partners.
In October, Ukraine and Rheinmetall established a joint venture. The joint venture will service and repair the equipment supplied to Ukraine by allies. This facility will also involve the localization of the production of leading Rheinmetall AG equipment.