Ukraine MoD: Russian strike on Odesa hotel is a pathetic attempt at retaliation for attack on Sevastopol Navy HQ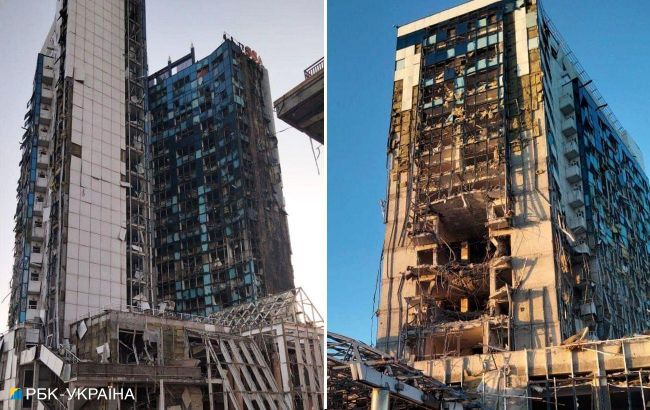 Photo: Consequences of the Russian attack on a hotel in Odesa (RBC-Ukraine collage)
The Russian attack on a hotel near the seaport in Odesa is a pathetic attempt at retaliation for the Ukrainian strike on the Black Sea Fleet headquarters in Sevastopol, according to Ukraine's Ministry of Defense.
"Russian missiles struck a hotel in Odesa last night. A pathetic attempt at retaliation for our successful hit on the Russian Navy HQ in Sevastopol," the statement said.
Night attack on Odesa
Tonight, the occupiers launched a combined attack on Ukraine. In particular, the Russians attacked the port infrastructure of the Odesa region. In Odesa, the seaport was damaged, and a well-known hotel that was a symbol of the city was completely destroyed by fire. Two people were killed in the shelling.
The occupiers launched 12 Kalibr cruise missiles, 2 P-800 Oniks anti-ship missiles, and 19 Shahed drones at Ukraine. Ukrainian soldiers shot down 30 Russian aerial targets.
More details on the Russian attack can be found in the RBC-Ukraine report.
Attack on the Russian Fleet headquarters in Sevastopol
On September 22, a missile strike was carried out on the headquarters of the Russian Black Sea Fleet. The General Staff of the Armed Forces of Ukraine StratCom confirmed that Ukrainian military forces were responsible for the attack. According to the media reports, Ukraine used Storm Shadow missiles for the attack.