Ukraine's MoD reaches agreement with EU mission to monitor provided weapons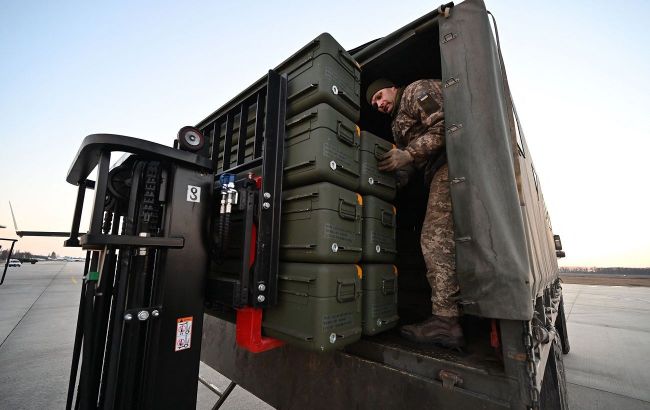 Ukraine's MoD reaches agreement with EU mission to monitor provided weapons (Getty Images)
Experts from the European Peace Facility monitoring mission will verify the accounting of weapons transferred to Ukraine from European Union countries, according to the Ministry of Defense of Ukraine.
Representatives of the defense department have already met with the mission delegation.
"The parties discussed the monitoring by EU experts of the accounting of assistance provided by EU countries (weapons, military equipment, and military property)," the statement reads.
The Ministry of Defense also clarified the procedures for accounting received assistance for the experts and expressed readiness to provide complete support in organizing the verification.
EU representatives praised the openness of the Ukrainian side and their willingness to cooperate, according to the ministry.
According to the EPF foreign delegation, such transparency positively influences the decisions of EU countries to continue providing military assistance to Ukraine.
"Moreover, this allows actively and substantively countering propaganda and fake accusations regarding the so-called illegal transfer of weapons by Ukraine to third parties," the statement noted.
The parties agreed to continue cooperation, added the ministry.
EU military assistance to Ukraine
According to the Ministry of Defense, the total amount of military assistance to Ukraine from EU countries since the beginning of Russia's full-scale aggression is estimated at approximately 27 billion euros.
Of this, 5.6 billion euros were provided within the framework of the European Peace Facility.
Ukraine's call to the EU to increase military aid
Recently, the Minister of Foreign Affairs of Ukraine, Dmytro Kuleba, participated in a meeting of the EU Council and called on colleagues to increase military aid to Ukraine.
This includes the supply of combat aviation, artillery, rocket artillery systems, armored vehicles, tanks, ammunition, electronic warfare means, radars, drones, long-range missiles, and more.
The Minister of Defense of Ukraine, Rustem Umerov, reminded the heads of the EU defense ministries why it is important to speed up the supply of weapons to the Ukrainian military.
In September, the Pentagon sent inspectors to Kyiv to monitor military aid to Ukraine from the United States. A similar American inspection mission worked in Ukraine earlier this year.
As previously stated by the US Agency for International Development (USAID), the United States did not find serious violations related to the aid provided to Ukraine.