Ukraine's Foreign Minister addresses EU Council, calling for increased arms deliveries and more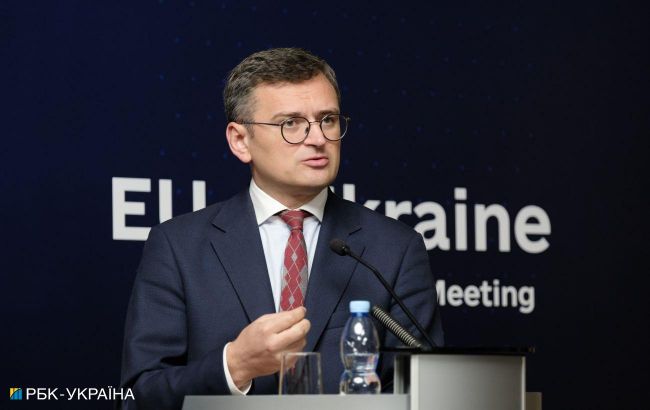 Ukraine's Minister of Foreign Affairs of Ukraine, Dmytro Kuleba (Vitalii Nosach, RBC-Ukraine)
Ukraine's Minister of Foreign Affairs of Ukraine, Dmytro Kuleba, took part in the Council of Foreign Ministers of European Union states. He called for an increase in military assistance to Ukraine, according to the Ministry of Foreign Affairs.
"Let's set aside all the nuances of the political decision-making process and focus on the main question: what should we give to the Ukrainian infantryman to ensure his success? The answer consists of two components: the means to do the job and moral spirit," he stated during his speech.
Apart from increased military assistance, the minister called for shortening the time of its delivery. This includes combat aviation, artillery, rocket systems, armored vehicles, tanks, ammunition, electronic warfare equipment, radars, drones, long-range missiles, and more.
Kuleba also underlined the importance of strengthening air defense at close, medium, and long-range.
"We are grateful for all the support provided. We count on receiving the eighth tranche within the framework of the Peace Facility and the creation of a special fund within the European Peace Facility in the amount of 20 billion euros to assist Ukraine. It is also important to speed up the implementation of the EU's joint plan to provide 1 million artillery ammunition," he added.
Kuleba thanked the European Commission for recommending the start of negotiations on Ukraine's accession. According to him, Ukraine expects unanimous support for this initiative at the summit of EU leaders in December.
The minister also appealed to the foreign ministries to expedite work on the 12th package of anti-Russian sanctions and strengthen cooperation with countries in Asia, Africa, and South America on peace initiatives and the Grain From Ukraine initiative.
EU military aid to Ukraine
Earlier, the head of Lithuania's Ministry of Foreign Affairs, Gabrielius Landsbergis, announced a backup plan for military aid to Ukraine. He noted that European Union states may agree to finance military assistance to Ukraine not by all 27 bloc members. Such a decision could be adopted if the initiative for assistance within the European Peace Facility is not supported.