Ukraine's govt submits draft budget-2024 to Parliament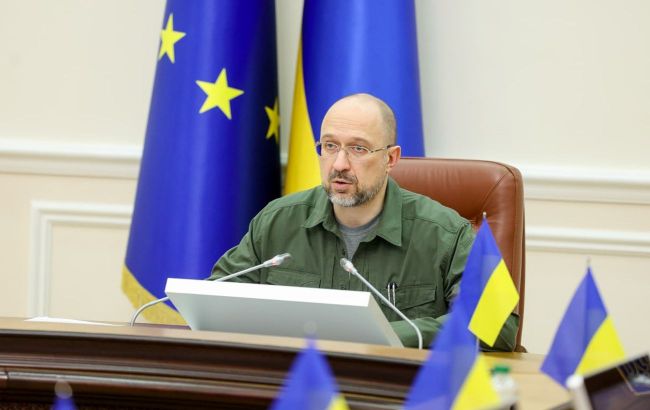 Prime Minister of Ukraine Denys Shmyhal (kmu.gov.ua)
The Cabinet of Ministers of Ukraine has submitted a draft state budget for 2024 to the Verkhovna Rada (the Ukrainian parliament), according to the parliament's website.
The parliament's website now displays the text of the draft law and an explanatory note. Previously, it was reported that the budget for 2024 would allocate 1 trillion 685 billion hryvnias for security and defense and nearly 500 billion hryvnias for the social sphere.
As Prime Minister Denys Shmyhal stated, the government identified five priorities in the state budget for the next year.
According to the procedure, the draft budget must be submitted for consideration during a Rada session after registration. If the document is rejected, the Cabinet of Ministers has seven days to submit the project with an explanation of the proposed changes.
The first reading of the budget is scheduled to take place by October 20. Approved budget conclusions will be taken into account by the Cabinet of Ministers during the preparation for the second reading.
During the second reading, the following will be approved: the overall deficit (or surplus), the maximum state debt, total revenue, and expenditure amounts, the minimum wage, the subsistence minimum, and a range of other indicators. Any other sections that are not adopted in the second reading will be deferred to the third reading.
The law on the state budget for 2024 must be adopted by December 1.
Key figures of the budget
Revenues: 1.746 trillion hryvnias (general fund: 1.54 trillion hryvnias)
Expenditures: 3.308 trillion hryvnias (general fund: 3.1 trillion hryvnias)
Deficit: 1.531 trillion hryvnias.
Defense budget
President of Ukraine Volodymyr Zelenskyy notes that the main priority in the state budget for 2024 should be financing the defense and security of the country. In particular, he called for significant funds to be directed towards the production of weapons and drones in Ukraine.
In the document, it is stated that Ukraine plans to allocate over 1.5 trillion hryvnias for defense in the coming year. Funding for the development of the domestic defense-industrial complex will be increased sevenfold, to nearly 56 billion hryvnias. Another 48 billion hryvnias will be allocated for the purchase of drones.
Support for veterans will receive twice as much funding as in 2023, totaling 14.3 billion hryvnias.
Minimum wage
The head of the state instructed the Prime Minister to include the basis for increasing the minimum wage in the 2024 budget.
The budget provides that from January 1, the minimum wage in Ukraine will increase to 7,100 hryvnias, and from April 1 - to 8,000 hryvnias.
Pension indexation
According to the President, the budget will also include pension indexation, planned for March of the following year.
On September 5, the Prime Minister promised that the draft state budget would be submitted to the Rada by September 15.