F-16 coalition: Ukraine's pilots training and aircraft transfer timeline unveiled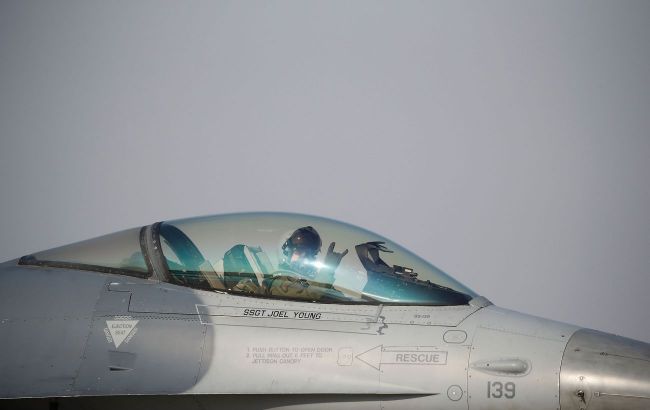 Ukraine's F-16 training starts in August (Photo: Getty Images)
As Ukraine prepares to dispatch pilots for training on F-16 fighter jets, the subsequent phase will involve the transfer of these combat aircraft from Western allies.
RBC-Ukraine provides insights into the preparation timelines for aviators and the aircraft handover process.
Aviation coalition: Key players behind Ukraine's F-16 acquisition
Ukraine's need for advanced Western-style combat aviation became apparent with the onset of full-scale Russian incursion. However, turning the F-16 prospect into reality demanded a step-by-step approach, initially persuading allies towards delivering air defense systems and later, tanks.
In the spring of 2023, the gears began to turn. Following President Volodymyr Zelenskyy's visits to European nations in May, namely the United Kingdom, the Netherlands, and France, the creation of the so-called "fighter coalition" was announced. This informal alliance comprises partners willing to support Ukraine in acquiring F-16s.
Around the same time, it became evident that the United States and its allies had reached an agreement on providing fighter jets to Ukraine. In the coming months, decisions are anticipated regarding who will supply these aircraft, in what quantity, and when. However, it is clear that they won't be involved in the ongoing counteroffensive operations.
The stance of the United States is pivotal in this matter, and on May 20, the President's national security advisor, Jake Sullivan, confirmed Washington's participation in Ukrainian pilot training and aircraft delivery.
Photo: The fighter coalition, consisting of over 10 countries, is engaged in pilot training and aircraft supply efforts (Getty Images)
In June, following a meeting in the "Ramstein" format, a coalition of nations was formalized to oversee pilot training directly. A corresponding memorandum was signed with 11 partner countries.
"F-16s will defend Ukraine's skies and the eastern flank of NATO. The Ukrainian Air Force is ready to swiftly incorporate them. Ukraine will prevail," commented Defense Minister Oleksii Resnikov.
The following countries are part of the preparation coalition:
Denmark
The Netherlands
Belgium
Canada
Luxembourg
Norway
Poland
Portugal
Romania
Sweden
United Kingdom
Commencement of pilot training
This week, Pentagon spokesperson Sabrina Singh confirmed that U.S. President Joe Biden has given the "green light" for pilot training from Ukraine. However, specific training details are yet to be disclosed officially.
Nonetheless, it is known that the training process is set to kick off in August. Ukrainian President Volodymyr Zelenskyy announced this during a meeting with ambassadors. Consequently, he urged diplomats to focus entirely on working with nations capable of transferring these fighter aircraft to Ukraine.
Photo: Yurii Ihnat, spokesperson for the Air Forces Command of the Armed Forces of Ukraine, asserts that pilots are already prepared for training and are awaiting the signal from partners (Suspilne media)
Yurii Ihnat, spokesperson for the Air Force, recently indicated that pilots have long been prepared to embark on training and await the go-ahead from partners.
"We have discussed the timelines on multiple occasions. The end of summer is the target... If it's the end of summer, then all is well," he emphasized.
Training locations for pilots
Currently, it is known that training will take place in Denmark and Romania. As of July, John Kirby, the White House National Security Council coordinator, mentioned that dates and program durations are still under development.
Moreover, the training locations might not be limited to just these two countries. Notably, the British side, among other aspects, will assist pilots in improving their English proficiency - a crucial prerequisite for starting F-16 training.
Previously reported, Romania is set to commence pilot preparation in August. According to CNN's information, a training base has already been designated, with 3-4 fighter jets potentially engaged in the training mission. Given Romania boasts nearly a dozen qualified instructors with over 2,000 flight hours, hiccups aren't anticipated. Additionally, the Netherlands will provide training aircraft.
Photo: Ukrainian pilots' training will commence at the Skrydstrup Air Base in Denmark (wikimedia.org)
However, conflicting information arises. Ray Piselli, Vice President of International Relations at Lockheed Martin, indicated that the initial training phase would occur at the Skrydstrup Air Base in Denmark. Ukrainian pilots are projected to reach the Romanian training center at the 86th RoAF Air Base (Borca) by year's end.
Ukraine has an interest in expanding the training geography.
"It could even be the United States. But for now, that's not on the table; the decision will be political or part of the aviation coalition. The best base is in the U.S., but there are training centers in Europe as well," Yurii Ihnat noted.
Training process
The initial phase involves pilot testing and selection, gauging English language proficiency, followed by theoretical and practical courses. These steps are essential to equip pilots with the necessary skills for operating and tactically employing the F-16.
In addition to pilots, the training will extend to technical personnel responsible for maintaining the fighter jets.
It's possible that foundational training could occur in Ukraine. Last week, the Czechia handed over a specialized simulator, which President Volodymyr Zelenskyy tested.
Photo: President Volodymyr Zelenskyy testing the F-16 simulator (president.gov.ua)
"On this simulator, Ukrainian military personnel are learning about modern technology's intricacies and capabilities," the President's office stated.
Duration of training
Currently, the precise duration of the Ukrainian pilots' training program cannot be definitively stated.
"It depends on their qualifications in terms of modern fighter jets and experience, as well as how proficient they are in the English language," Danish Army Commander General Flemming Lentfer explained.
In an interview with RBC-Ukraine, Yurii Ihnat, spokesperson for the Air Forces Command of the Armed Forces of Ukraine, mentioned that according to optimistic estimates, the shortest course would take about 6 months. However, it could potentially be shorter.
For instance, a pair of Ukrainian pilots underwent simulator testing at an airbase in Arizona, United States, and American partners gauged their responses to different in-flight scenarios and how quickly they grasped new material.
"The Air Force initially spoke of half a year, but our colleagues indicated that they might manage to condense it into 4 months," he added.
Number of pilots undergoing training
According to Politico, the first group of 8 Ukrainian pilots ready to begin F-16 training has been formed. Additionally, another 20 individuals, with some grasp of English, will undertake language courses in the United Kingdom in August.
Yuriy Ignat mentioned that unfortunately, not all Ukrainian pilots are proficient in English, hence the focus is currently on the initial 8 aviators. However, once the remaining pilots enhance their language skills, they will follow the first group.
Overall, several dozen pilots need to be trained.
"It won't be training, but rather retraining for a new aircraft type. They'll need to comprehend how everything works. They'll need to shift their mindset – moving from old Soviet technology to Western," he spoke about the first group.
The retraining process will be contingent on each pilot's experience. Some will begin with ground training, while others will directly engage in flight operations.
Earlier reports indicated that Denmark could simultaneously accommodate up to 6 pilots and up to 40 technical personnel.
When will Ukraine receive F-16s?
No official dates have been provided, but it's evident that they will be contingent on the speed of training and the number of prepared pilots. Politico, citing sources, reported that schedules are still pending, including the matter of which parties will provide the aircraft to Ukraine. The baseline scenario points toward the beginning of 2024.
Minister of Foreign Affairs Dmytro Kuleba expressed that Western aircraft should appear in the Ukrainian sky by the end of March.
"I believe that if by the end of the first quarter of next year, the first F-16s are flying in Ukrainian airspace, piloted by Ukrainian pilots, it would be in line with the schedule," he noted.
However, numerous nuances exist, and the timeline may shift due to the necessity of preparing technicians, engineers, and the corresponding infrastructure.
Photo: Minister of Defense Oleksii Reznikov anticipates receiving F-16s next year (Vitalii Nosach, RBC-Ukraine)
Minister of Defense Oleksii Reznikov also emphasized this point. According to him, once the infrastructure, pilots, and engineers are ready, Western partners will say, "Okay, now the aircraft."
"So, it will take some time. Optimistically, I think it will be next year," he added.
Who and how many F-16s will be given to Ukraine?
Ukraine hopes to receive around 40-50 modern F-16 fighter jets from Western partners. This quantity should suffice for forming three to four squadrons. Notably, Ukrainian squadrons consist of 12 combat aircraft.
As of now, it remains uncertain who will provide how many aircraft to Ukraine. According to Volodymyr Zelensky, partners are ready to provide a "significant quantity."
"(In Moldova - ed.) I had a closed-door meeting with countries that confirmed definitively that they would give us F-16s," he said in June.
Bloomberg's information suggests the aircraft in question are those held by European NATO members. These models are generally older, and their maintenance costs could be rather high. Some estimates indicate the cost of one flight hour could be up to $32,000. In contrast, this figure starts at $8,000 for modern versions.
Dmytro Kuleba emphasized that several partners are prepared to transfer fighter jets and even specify quantities. However, for now, only training has been agreed upon publicly.
It's anticipated that the Netherlands and Denmark will be the first to provide F-16s. These two countries lead the aviation coalition and are transitioning from F-16s to F-35s. According to Bloomberg, in May, the Dutch government initiated relevant negotiations with Washington.
Currently, the Netherlands possesses around 40 F-16 fighter jets, with 24 units still operational and unable to be transferred to Ukraine until mid-2024. Depending on different assessments, between 10 and 12 aircraft have been decommissioned. A dozen were planned for sale to Draken International, but the deal was postponed without explanation in December 2022.
As a potential donor to Ukraine, Denmark has 44 aircraft, with 30 in operational condition. Belgium faces a similar situation, possessing 53 F-16 units and planning a transition to fifth-generation aircraft.