Czechia provides Ukraine with simulator for training pilots on F-16 aircraft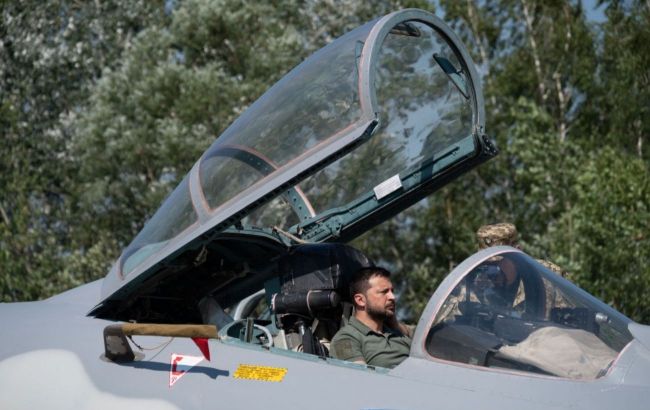 Ukrainian President Volodymyr Zelenskyy (Photo: president.gov.ua)
According to the site of the Ukrainian President, on the occasion of Ukrainian Air Force Day, President Volodymyr Zelenskyy had the opportunity to observe the functionality of a simulator that has been generously offered to Ukraine by Czechia. The simulator is intended for training pilots to operate Western-standard F-16 aircraft.
Sources from the Office of the President stated that Ukrainian military personnel is currently utilizing this simulator to familiarize themselves with the intricacies and capabilities of modern aviation technology.
During the inspection of weapon systems and military equipment samples, President Zelenskyy actively engaged with the simulator in practical scenarios, demonstrating his skills by accurately targeting a virtual Tu-95 aircraft.
Ukrainian Air Force Day
In addition to the newly acquired simulator, President Zelenskyy also toured various aircraft, including the Su-25 attack aircraft, Su-24M bomber, Su-27 and MiG-29 fighter jets armed with missiles. These aircraft, as emphasized by Lieutenant General Mykola Oleshchuk, the Commander of the Ukrainian Air Force, have been upgraded to accommodate weaponry provided by international partners. Notable among these are "air-to-surface" ZUNI missiles, Storm Shadow missiles, and anti-radiation AGM HARM missiles.
Training of Ukrainian pilots on F-16 aircraft
Allied nations have collectively decided to facilitate the training of Ukrainian pilots on F-16 fighter aircraft. This resolution was established following an endorsement from U.S. President Joe Biden.
President Zelenskyy confirmed that the training program for the Ukrainian Armed Forces on American F-16 fighter aircraft is set to commence as early as August. This initiative reflects a strong partnership in bolstering Ukraine's aviation capabilities and strengthening international collaboration in defense and security endeavors.