F-16 can maximize missile and drone downings over Ukraine - Ukrainian Air Forces spokesperson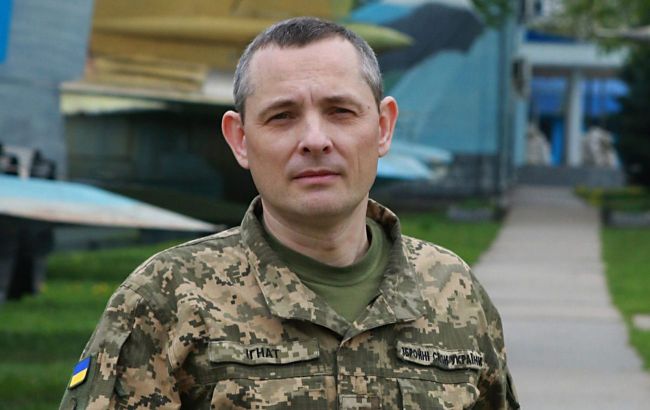 Yurii Ihnat, Spokesperson for the Ukrainian Air Forces Command (Photo: armyinform)
Western allies have finally approved the commencement of training for Ukrainian pilots on F-16 fighter jets. These aircraft are expected to significantly bolster the nation's aviation fleet and potentially help establish air superiority over occupied territories. In addition, they must close our skies from hostile missiles and drones, along with other ground-based air defense systems, most of which will be Western systems in the future.
Ukraine aims to acquire even more of such systems by the end of this year, to protect our energy infrastructure from possible attacks in fall and winter, according to Yurii Ihnat, the spokesperson for the Ukrainian Air Forces Command. In an interview, we discussed the duration of training on the F-16, the advantages of these fighters, and how the Ukrainian air defense will be strengthened.
When asked about the training on the F-16, Yurii Ihnat says that Ukrainian pilots are set to undergo training to operate the highly advanced F-16 fighter jets by the end of summer, a move facilitated by promises made by Western partners. However, the specific countries where this training will take place remain undisclosed at the moment. The training program is not limited to pilots alone; engineers and other experts involved in the maintenance and operation of these aircraft and weaponry will also receive thorough instruction.
According to Ihnat, the training program will include both short courses for immediate operational needs and long-term preparation for young professionals. "Within six months, several squadrons of F-16 fighters could be trained for fulfilling immediate tasks such as reclaiming territories, supporting ground troops, and achieving air superiority. Additionally, the F-16's capabilities extend to protecting against missiles, drones, and countering Russian missile threats within Ukraine's borders," says Ihnat.
The shortest training course will last six months, or perhaps even shorter. While Ukraine's Air Forces initially projected a six-month timeframe for this process, Western allies, following tests conducted with two Ukrainian pilots in the United States, suggested that it could potentially be accomplished within four months.
The shortest training course will last six months, or perhaps even shorter. (Photo: Getty Images)
Ihnat stresses the critical aspect of the F-16's role in combat rather than mere flight operations, particularly in terms of deploying weaponry. The F-16 possesses a diverse arsenal of highly effective aviation precision-guided missiles, bombs, and more. Therefore, comprehensive training not only for Ukrainian pilots but also for foreign experts, including engineers, is essential. Eliminating room for error is paramount.
He emphasizes that the weaponry for the F-16 is capable of shooting down cruise missiles, drones, and enemy aircraft. However, it is not equipped to intercept ballistic missiles.
When Ukraine might receive its first batch of F-16 fighter jets is currently uncertain, as per Ihnat. The process is expected to coincide with the pilots' training. "Western allies potentially offer more attention to the fighter jets' maintenance. European NATO countries may play a role in this aspect. While specific timelines cannot be confirmed yet, even having one squadron of F-16s early on would be a positive step in safeguarding critical directions and fulfilling vital tasks as we have already discussed," the spokesperson added.
According to him, it is important that the partners have already made the decision to transfer F-16s. Once the first aircraft arrive in the country, Ukraine will receive more and more of these fighter jets.
Ihnat believes that the Russians will do everything in their power to try to destroy these aircraft when they arrive. He also reminded that earlier, the aggressors planned to destroy the Patriot system, but they failed. The Air Forces believe the same will be true for the F-16s and promise to protect them meticulously.
Addressing concerns about Ukraine's air defense, Ihnat clarifies that Air Forces assets, such as anti-aircraft missile systems, are not stationed within cities. Even though Russian propaganda says "Look, they intentionally deploy anti-aircraft defense systems in urban areas. We target those systems that we deem necessary, and in response, they shoot them down, causing debris to fall on civilians' heads. That's how dangerous they are." If we have systems with larger protection circles, such as the Patriot or SAMP-T, that would be possible to position them further from cities. The F-16, with its capabilities of intercepting enemy targets between regions and even at Ukraine's borders, could potentially address this issue.
Yurii Ihnat (Photo: suspilne media)
"In this manner, the air defense is positioned as densely and as far away from the city as possible, according to what is feasible. The military leadership made this decision to provide maximum protection to the metropolises and critical assets, given the resources available today. The F-16 may be the solution to intercept hostile targets, even along the border with Ukraine," explains the spokesperson of the Air Force Command.
He also raises concerns that the Russians may resume shelling Ukrainian energy facilities this fall. Russia is constructing factories to produce various drones, including Iranian "Shahed" drones that were previously used to attack Ukrainian power substations. Additionally, the adversary continues to manufacture long-range missiles.
"We cannot rule out the possibility of them attempting to cause trouble again, perhaps with targeted strikes on certain fuel and energy sector objects," clarifies Ihnat.
According to him, Ukraine will mobilize all possible resources to strengthen its air defense for the fall-winter period, particularly with the acquisition of Western defense systems. He further elaborates that several systems to protect the skies from Russian missiles and drones will be provided by partner countries.
"Germany is providing us with four Iris-T systems. Norway, as announced at the summit in Vilnius, will contribute two more systems, NASAMS. The United States has been more reserved in making commitments, as seen with the F-16. When they deem it necessary, they will respond. However, we are evidently counting on receiving the Patriot system, as it has already proven its effectiveness in a very short time," Ihnat says.
Ukraine is counting on receiving the Patriot system (Photo: twitter Oleksii Reznikov)
For now, Ukraine has fewer Western air defense systems in its arsenal compared to the older Soviet complexes, but the new ones are significantly more efficient.
"These are Patriot systems. SAMP-T, like Patriot, is capable of engaging ballistic targets. Patriot has already demonstrated this by intercepting 'Kinzhal' missiles, while SAMP-T needs to be tested in actual combat conditions to assess its ballistic capabilities. In addition, NASAMS and Iris-T together, these four complexes will form the core of the Air Defense Forces," clarifies Ihnat.
Yurii Ihnat underlines that Ukraine aims to replace its entire Soviet-era arsenal with these modern systems, indicating the interest of Western manufacturers in long-term cooperation with Ukraine.