Ukraine's Defense Minister discusses strengthening military aid with German Finance Minister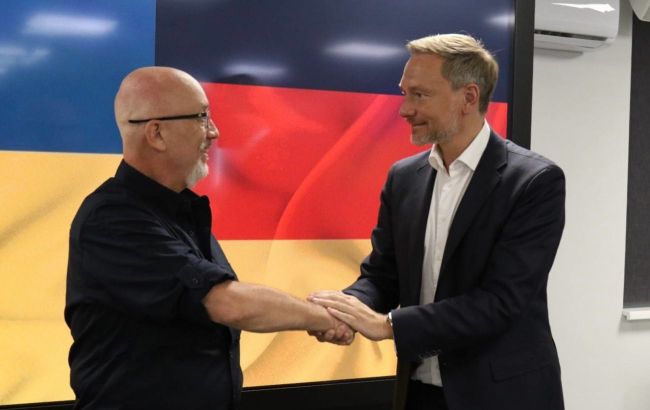 Ukrainian Defense Minister Oleksii Reznikov and German Federal Finance Minister Christian Lindner (Photo: mil.gov.ua)
According to the press service of the Ministry of Defense of Ukraine, Ukrainian Defense Minister Oleksii Reznikov held talks with German Federal Finance Minister Christian Lindner on Tuesday, August 15, to discuss bolstering military assistance to Ukraine. The meeting focused on crucial matters of security cooperation between the two nations.
During the meeting, Lindner was briefed on the current security situation in Ukraine, along with short-term and medium-term trends. Both sides underscored the importance of Germany's support in countering Russian aggression, including the provision of material and technical assistance.
Reznikov highlighted Germany's leadership role within the tank coalition for Ukraine, reminiscing about the early discussions and acknowledging the transformation of their cooperation. "I vividly recall our initial discussions. My counterpart, German Defense Minister Christina Lambert, stated in Odesa, 'Oleksii, this is impossible!' But now we have tanks: Leopard-1, Leopard-2, forming a tank coalition. Portugal, Denmark, Spain, the Netherlands, Sweden, they're all with us. Western tanks for Ukraine serve as an 'iron fist' to liberate our occupied territories," he emphasized.
Among the priority goals discussed were the acquisition of anti-aircraft defense systems, various calibers of ammunition, and diverse armored vehicles. Reznikov particularly emphasized the need for armored medical vehicles to swiftly evacuate wounded Ukrainian soldiers to military hospitals during the critical "golden hour," a time window crucial for life-saving measures.
On his part, the German Finance Minister expressed unwavering support for Ukraine's territorial integrity and independence, expressing readiness to continue practical collaboration across a wide spectrum of issues.
Germany's assistance to Ukraine
As a significant ally since the onset of Russia's full-scale invasion, Germany has been an essential partner for Ukraine. Berlin has already supplied modern anti-aircraft missile systems like IRIS-T and Patriot to the Ukrainian Armed Forces, along with Leopard 2 tanks and infantry fighting vehicles like Marder.
Recent rumors in the media have hinted at Germany's potential supply of long-range Taurus missiles to Ukraine, capable of striking targets up to 500 kilometers away.
Furthermore, Germany aims to allocate 5 billion euros annually to aid Ukraine, which includes the provision of weaponry. This steadfast commitment underscores the depth of the bilateral partnership between the two nations.