Ukraine might have used cluster munition analogs while liberating Urozhaine village - CNN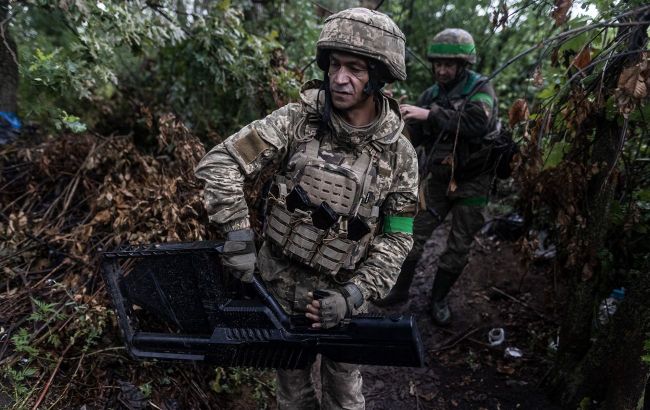 Ukraine might have used cluster munition analogs while liberating Urozhaine village (Getty Images)
During the liberation of the Urozhaine village in the Donetsk region, Ukrainian military forces could use weapons similar to cluster munitions of Ukraine's own production, according to CNN.
Deputy Minister of Defense of Ukraine Hanna Maliar confirmed the liberation of Urozhaine when a CNN filming crew, along with the 35th Marines, approached its outskirts.
"Drone footage of the intense fight for the village has emerged in which dozens of Russian troops can be seen fleeing to the village's south. They are apparently shelled as they flee, at times by what seem to be cluster munitions, two arms experts who reviewed videos of the incidents said. The experts did not want to be identified discussing a sensitive issue," the media says
The videos show dozens of Russian troops running along an open road, seemingly forced to use the asphalt as the adjacent fields and treelines had been mined. The Russians also gathered in large numbers in houses which were then hit by artillery.
The drone videos also showed a Ukrainian tank charging alone at Russian positions, firing, and dragging behind it a cable on which were attached mine-clearing explosives. The charges detonate when the tank turns away from the clashes, ensuring the clear advance of the next units through minefields that have caused significant losses.
"CNN was unable to confirm the devices identified by experts as likely cluster munitions in the videos from Urozhaine were US-supplied weapons. Ukraine is thought to have produced several similar devices domestically that could be in use on the frontlines," the report stated.
Liberation of Urozhaine
On August 16, Ukrainian forces liberated the village of Urozhaine, located near Staromaiorsk in the Donetsk region. As noted by Maliar, the offensive actions continue.
On the following day, August 17, the last civilians were evacuated from the settlement.