Ukraine beats Bulgaria in preliminary Olympic basketball qualification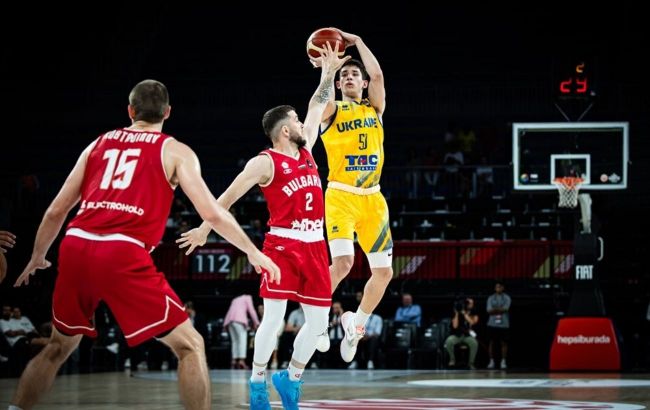 Ukraine emerged victorious against Bulgaria (photo: fbu.ua)
Ukraine kicked off their journey in the preliminary qualification phase for the 2024 Olympic basketball tournament with a triumphant beginning. In the opening round, the "blue and yellow" team secured a win against Bulgaria, according to the match's outcome.
The Ukrainian team had a stellar start to the match, initiating a powerful surge right from the game's inception. Under the leadership of Vitalii Stepanovskyi, the team conceded only 10 points in the opening 13 minutes, capitalized on fast-paced attacks to accumulate points, and showcased impressive shooting prowess. Notably, Oleksandr Kovliar sank 4 out of 6 three-pointers before halftime.
However, in the latter part of the second quarter, the Bulgarians managed to find their footing: they capitalized on our turnovers and adopted a more aggressive stance in the three-second area, reducing the point gap from 25 to 11 by the end of the first half.
Bulgaria further claimed victory in the third quarter: the Ukrainian team struggled with a low shooting percentage and allowed the opponents to rack up a series of easy points. As both teams entered the crucial fourth quarter, the game was tightly contested with Ukraine maintaining a 7-point lead.
In the fourth quarter, it appeared that Ukraine had wrested control of the game, leading by a 9-point margin at 66-57 with 4 minutes left on the clock. However, our team stumbled in the closing moments, allowing Bulgaria not only to catch up in the score but also to pull ahead. In the final 1.3 seconds, Aleks Simeonov executed a precise long-range shot to put Bulgaria in the lead.
With little time left for a rescue, the Ukrainian side was pressed. Yet, following a pass under the basket from Viacheslav Petrov, our captain Viacheslav Kravtsov drew a foul while making a two-pointer. Although he missed the ensuing free throw, it extended the game into overtime.
During those crucial five minutes, the Ukrainians restricted their opponents to a mere 3 points while kick-starting the overtime period with accurate long-range shots from Kovliar and Krutous. As a result, Ukraine clinched victory in the match with a +9 lead.
Oleksandr Kovliar emerged as the top scorer of the game, amassing 25 points, including an impressive tally of 6 three-pointers.
By the way, the Ukrainian national team had previously announced the roster for their training camp in Riga.