Ukraine initiates vessel registration for passage through Black Sea corridors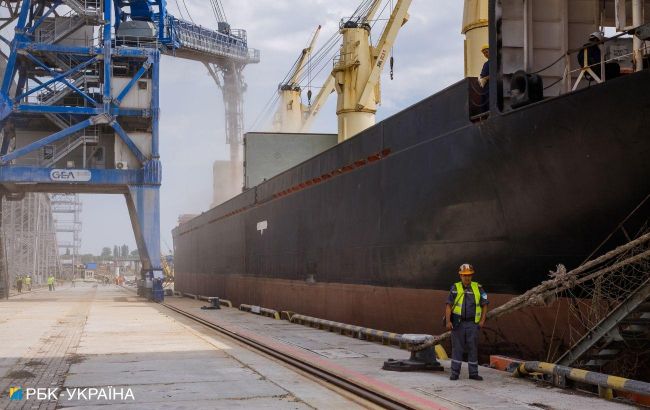 Ukraine has started registering vessels for passage through corridors (Photo: Vitalii Nosach, RBC-Ukraine)
Ukraine has begun registering commercial vessels ready to pass through temporary corridors in the Black Sea, according to the spokesperson of the Ukrainian Naval Forces, Dmytro Pletenchuk.
He emphasized that ship owners and ship captains had been warned about the threat from the Russian fleet and the mine danger in the Black Sea.
"Therefore, of course, all of this will be under the supervision of the Armed Forces of Ukraine. We're doing everything possible within our control to ensure security. Registration is already open, and the coordinator is already working," the spokesperson said.
However, Pletenchuk did not disclose details about the number of vessels that had already been registered. He mentioned that "currently, we cannot reveal all the details about this initiative."
Ukraine has also not determined the timeline for how long the corridors in the Black Sea will remain operational.
"These timelines are not defined at the moment. The reality of how all this works is unfortunately conditioned by the events taking place in the Black Sea because in a normal situation, it would be much broader, simpler, and safer," he explained.
According to the spokesperson, the temporary corridors are intended to help overcome the international humanitarian crisis and provide companies with the opportunity to retrieve vessels that are held in "humanitarian captivity" due to Russia's aggression.
Corridors in the Black Sea
As previously reported, nearly a month after Russia withdrew from the "grain deal," Ukraine announced the opening of temporary corridors for commercial vessels in the Black Sea. However, the Ukrainian Naval Forces emphasized that the threat from Russia remained.
The routes are primarily intended for the departure of civilian vessels located in Ukrainian ports such as Chornomorsk, Odesa, and Pivdennyi since the beginning of the war.
Later, Commander of the Ukrainian Naval Forces, Oleh Chalyk, explained that the corridor in the Black Sea would be transparent, and cameras would be installed on the ships to verify that it is solely a humanitarian mission.