Ukraine initiates security guarantees talks with France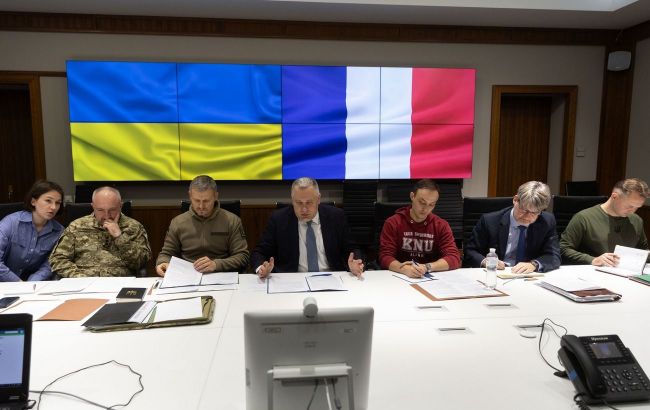 Ukraine and France started negotiations (Photo: president.gov.ua)
Ukrainian officials have conducted the initial round of negotiations with representatives from France regarding a bilateral agreement on security guarantees for our country, informs the Presidential Office of Ukraine.
The Ukrainian negotiating team was led by the Deputy Head of the Office of the President of Ukraine Ihor Zhovkva. The team also includes Deputy Head of the Presidential Office Roman Mashovets and First Deputy Minister of Defense Oleksandr Pavliuk.
It is also stated that the parties agreed on a plan for further bilateral negotiations and a procedure for the coordination of security guarantee issues for the near future.
"It is difficult to overestimate the importance of bilateral security negotiations with France as a founding member of the European Union and NATO. We constantly feel France's support both in bringing Ukraine's victory closer and on the path of our country's European and Euro-Atlantic integration," stated Ihor Zhovkva.
France is the fifth G7 country after the United States, the United Kingdom, Canada, and Japan to begin bilateral negotiations with Ukraine, as emphasized in the Office of the President.
Security guarantees for Ukraine
Ukrainian officials have repeatedly emphasized the need for security guarantees for the country.
These guarantees will prevent Russia's re-invasion after the war ends, even before Ukraine becomes a NATO member.
At the NATO summit in Vilnius, the G7 countries signed a declaration on security guarantees for Ukraine. So far, 29 countries have joined it.