Russia launched record number of Shaheds at Ukraine this September, Defense Express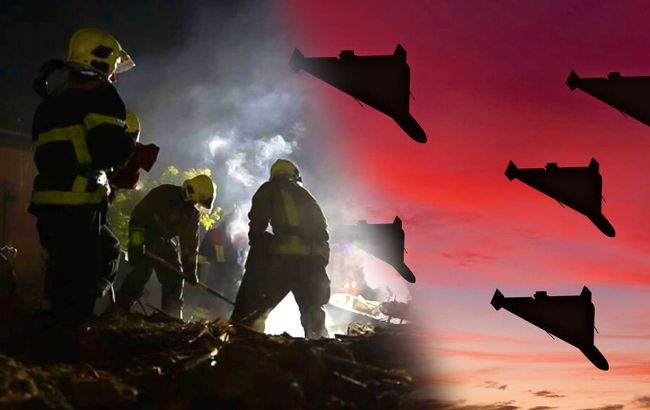 Russian occupants used a record number of kamikaze drones to attack Ukraine in September (collage by RBC-Ukraine)
Russian occupiers broke their record for the number of kamikaze drones launched at Ukraine for aerial attacks. In September, the invaders used 503 Shaheds to strike the territory of Ukraine, reports Defense Express.
The statistics indicate that the more than half a thousand Shahed-136s used this September set a record for using kamikaze drones of this type in a month and is "significantly higher" than the previous highest figure recorded in May (413 aerial projectiles).
According to the tally of the number of barrage munitions Shahed used by the Russian forces for aerial attacks on Ukraine, the invaders used 197 UAVs in June and 246 in July.
Out of the 503 Shahed-136s that the enemy launched at Ukraine in September, air defense forces and equipment managed to shoot down 396 units, with the average proportion of destroyed targets being a notably high figure of 78.7%.
The publication also featured an infographic compiled from the reports of the Air Force Command of the Armed Forces of Ukraine concerning the number of launched and downed Shahed drones.
How many Russian troops launched Shahed at Ukraine, and how many were shot down by UAF air defense (Photo: defence-ua.com)
The media also emphasizes that despite their large numbers, an essential factor is that "they are relatively cheap for the enemy."
"It is, of course, unknown at which specific price Russia purchases the Iranian aerial projectiles, but their cost is estimated between $20,000 to $40,000. In this case, the September quantity of Shaheds would have tentatively cost the Kremlin between $10-20 million if they were acquired at cost," the article states.
RF attacks on Ukraine with Shaheds
Russia actively uses Iranian kamikaze drones of the Shahed type to strike Ukraine's territory. Most of them are shot down, but often, these drones inflict significant damage.
In late August, a representative of the Defense Intelligence of Ukraine, Vadym Skibitsky, said that the terrorist country had already begun working to establish a robust production of unmanned aerial vehicles on its territory. According to the elements found in the UAV, the final stage of assembling these drones takes place in Russia.
Earlier, the spokesperson for the Air Force Command of the Armed Forces of Ukraine, Yurii Ihnat, noted that Ukraine continues to enhance methods to counter Russian drones. The effectiveness of the Armed Forces' mobile fire groups increases with each enemy attack.