Ukraine already has its own analogs of Shahed drones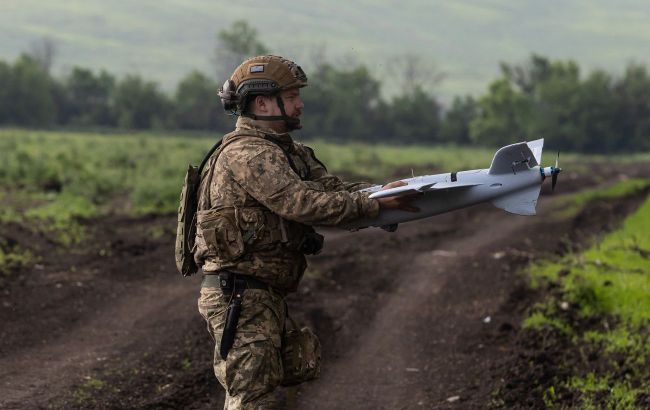 A Ukrainian soldier launching a drone (Getty Images)
Ukraine is already producing its own analogs of Iranian kamikaze drones, the Shahed-131, and is using them quite successfully in the war against Russia.
Recently, President Volodymyr Zelenskyy announced another variation of Ukrainian long-range weaponry, claiming a target was hit at a distance of 700 kilometers.
Given that this announcement came the day after an attack on the Russian Pskov airfield, it can be assumed that it refers to the successful use of domestic kamikaze drones.
The first known raid of Ukrainian drones into Russian territory occurred with attacks on the strategic aviation airfields of Dyagilevo and Engels back in December 2022. According to the General Staff of the Armed Forces of Ukraine, these strikes were carried out using modified Soviet Tu-141 Strizh drones.
The New York Times, citing its own sources, reported that Ukraine is allegedly developing several models of UAVs with a range of 1000 kilometers. News of drone attacks on Russia appears almost daily, indicating that these developments are progressing quite successfully.
"When it comes to combat drones, Ukraine is literally ahead of the whole world. This spring, the United Kingdom announced that it plans to transfer to us a batch of kamikaze drones with a range of 200 kilometers, and at that time, it was seen as a long-awaited event. It's unclear what happened with that story, but in the meantime, we have produced our own analogs of Shaheds," said Ivan Kyrychevskyi, an expert from the Defense Express information consulting agency.
According to him, even the drone that flies to Moscow, under the codename Bober (Beaver - ed.) has characteristics that, as recognized by the Russians themselves, surpass the Shahed-131.
Kyrychevskyi added that it took Iran two decades to reach the technological level for the development of the Shahed-136 drone, and at least five years for the drone's actual development. Therefore, Ukraine is progressing in this regard even faster than one might imagine. However, combat drones themselves are not enough, no matter how advanced they are. Neither their speed nor their combat payload can compare to modern long-range missiles.
Production of drones in Ukraine
According to former Minister of Defense Oleksii Reznikov, the Armed Forces of Ukraine have more than 20 new Ukrainian-made drone models in their arsenal.
He also revealed that Ukraine is experiencing a genuine boom in drone production, largely due to the government's efforts to simplify procedures for developers and manufacturers of weaponry and military equipment.
Additionally, the Cabinet of Ministers allocated 40 billion hryvnias this year for investments in Ukrainian drone manufacturers.
However, the Minister of Digital Transformation, Mykhailo Fedorov, said that Ukraine will have enough drones only after a minimum of 10 years from the moment of regaining control over all temporarily occupied territories.