Ukraine agreed with Romania to increase defense capabilities - Memorandum signed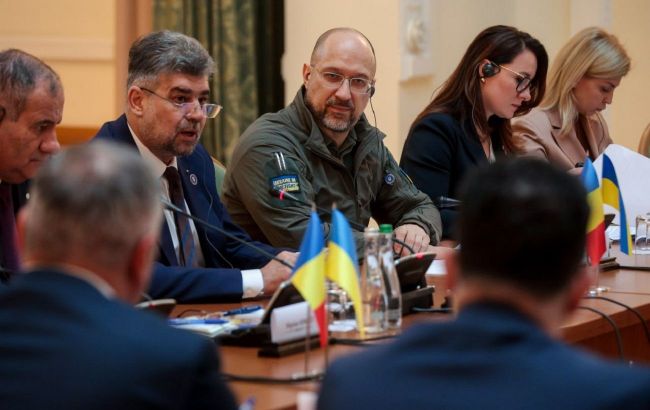 Prime Minister Denys Shmyhal at a joint meeting of the governments of Ukraine and Romania in Kyiv (Photo: t.me/Denys_Smyhal)
Ukraine and Romania have signed a memorandum of understanding and cooperation to increase defense production capacities and expand ammunition production, according to Ukrainian Prime Minister Denys Shmyhal.

These agreements were reached following a joint meeting of the governments of Ukraine and Romania held today, October 18, in Kyiv.
Shmyhal explained that the Memorandum of understanding and cooperation was agreed upon between the Ministry of Strategic Industries of Ukraine and the Ministry of Economy of Romania.
"It concerns the enhancement of defense capabilities: increasing production capacities and expanding the production of ammunition," the Prime Minister explained.
Other agreements reached with Romania include
Seven documents were signed following the joint meeting of the two governments. In addition to the Memorandum above, they include:
Inter-governmental agreement on constructing a cross-border road bridge over the Tisa River between the settlements of Bila Tserkva and Sighetu Marmatiei.
A new border crossing point will be opened, noted Shmyhal.
Memorandum on strengthening cooperation in ensuring the reliable transit of Ukrainian-produced goods.
"We plan to comprehensively develop road, rail, maritime, and river transport checkpoints," the Prime Minister said.
Inter-governmental Implementation Protocol to the Agreement between Ukraine and the European Community on the readmission of persons.
The head of the Cabinet explained this would increase the effectiveness of joint efforts against illegal migration.
Declaration of Intent between the Ukrainian and Romanian Ministries of Health.
The Ukrainian Prime Minister explained that it involves countering the challenges of war and "horizontal" cooperation between healthcare institutions.
Memorandum of understanding and cooperation in the pharmaceutical sphere between the relevant services of Ukraine and Romania.
"We are strengthening cooperation by introducing joint programs and projects," Shmyhal said.
During President Volodymyr Zelensky's visit to Romania on October 10, a bilateral declaration was signed between the two countries. Zelenskyy in Bucharest, discussed with Romanian counterpart Klaus Iohannis the strengthening of air defense, the development of aviation and other defense coalitions, and the Black Sea region.