UK Prime Minister Sunak and Ukrainian Prime Minister Shmyhal discuss investment in Ukrainian economy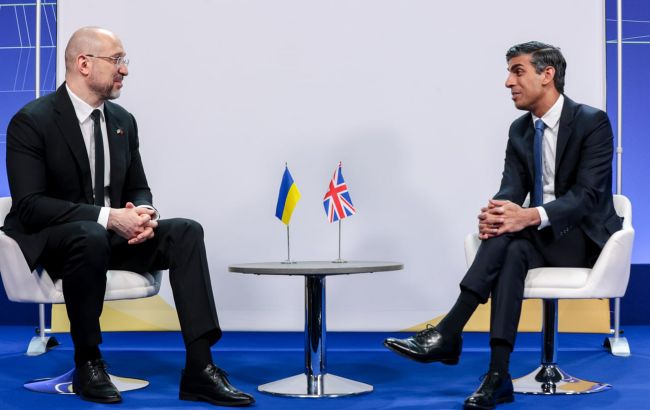 Rishi Sunak and Denys Shmyhal discuss investment in Ukrainian economy (Photo: twitter.com/Denys_Shmyhal)
Ukrainian Prime Minister, Denys Shmyhal, in his Telegram post, reported that in the framework of the Ukraine Recovery Conference in London, he had a meeting with UK Prime Minister, Rishi Sunak, where they discussed potential investment in the Ukrainian economy.
Denys Shmyhal expressed his gratitude for the organization of the event, which aimed to consolidate partners' efforts for the reconstruction of Ukraine and establish effective mechanisms for ongoing financial support.
The prime ministers also discussed involving the private sector in supporting Ukraine's economy. Furthermore, Shmyhal thanked Sunak for the financial aid package and the launch of the Business Compact initiative, which has already been joined by more than 400 world-leading companies.
"We appreciate the support of the United Kingdom in all areas and rely on its continued leadership in unifying the international coalition in support of Ukraine," he added.
The London conference began today, focusing on the recovery of Ukraine. Within its framework, international partners will propose economic support programs, while the Ukrainian side will present strategies for attracting private investments and swift country rebuilding.
Ukrainian President, Volodymyr Zelenskyy, has already spoken at the conference, outlining five directions for establishing a foundation for peace in Ukraine.
Moreover, at the meeting, UK Prime Minister Rishi Sunak announced a financial aid package worth $3 billion. In addition, US Secretary of State, Antony Blinken, promised $1.3 billion for the restoration of Ukraine's energy system and infrastructure.