UK intelligence explains three-week pause in missile attacks on Ukraine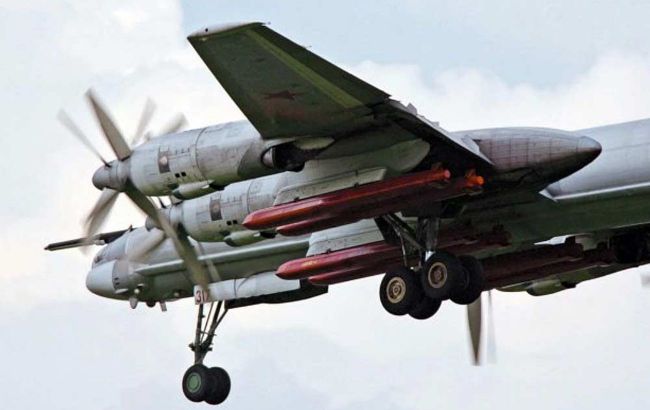 Missile strikes on Ukraine are expected in winter (Russian media)
The Russian army is stockpiling missiles for strikes against Ukraine's critical infrastructure with the onset of cold weather, according to the UK Ministry of Defense.
As reported in the summary, Russian Air Force Long Range Aviation (LRA) aircraft have not conducted a strike against Ukraine since September 21, 2023, a period of 21 days. According to British intelligence, such breaks have not been unusual, with the last similar break in strikes occurring between March 9 and April 28, 2023, a period of 51 days. In that instance it was likely that LRA had almost depleted its stocks of capable AS-23 missile munitions following its winter campaign against Ukrainian critical national infrastructure.
"This time, it is likely that Russian LRA are preserving existing stocks of AS-23 missiles as well as using this pause to increase useable stocks in anticipation of further heavy strikes against Ukraine over the winter.," the report reads.
Drone attacks
The British intelligence summary emphasizes that recently, Russia has focused its airstrikes against grain-related facilities across the south of Ukraine, using SHAHED one-way-attack uncrewed aerial vehicles (OWA UAVs.) This included strikes against Ukrainian Danube River ports, which likely required a high level of accuracy due to the target's proximity to the Romanian border.
"It is likely that Russia used SHAHED OWA UAVs on these targets because of their better accuracy over other types of air-launched missiles," writes the UK Ministry of Defense.
Pause in missile attacks
The spokesperson for the Ukrainian Air Force, Yurii Ihnat, explained the absence of missile strikes by stating that "the enemy has some plans." He further remarked that the enemy may want to use one type of weaponry while saving another type for potential future use.
At the same time, he reminded that Russia does not possess an endless supply of missiles.
"Over the past month, they have employed a number of such powerful strikes with cruise missiles. They used missiles of the X-type from strategic aviation, as well as Kalibr missiles. According to our official sources (the Main Intelligence Directorate or General Staff), we have a quantity of missiles similar to what they declared, which is approximately 600. It's clear that the enemy cannot afford to use them practically every day or every week," he said.
Ihnat highlighted that there is a certain quantity that needs to be kept as an untouched reserve or for other plans.
"Everyone is curious whether they are stockpiling for use in the fall and winter. Maybe. But we will monitor the situation. Besides long-range missiles, they have various other weapons they use against the aggressor countries," he added.
Previously, the spokesperson for the Ukrainian Air Force, Yurii Ihnat, stated that in September, Russia used more than 500 drones against Ukraine. He suggested that this autumn and winter might witness a record number of kamikaze drones used by Russia against Ukraine.