Two people trapped under rubble after Russian shelling of Odesa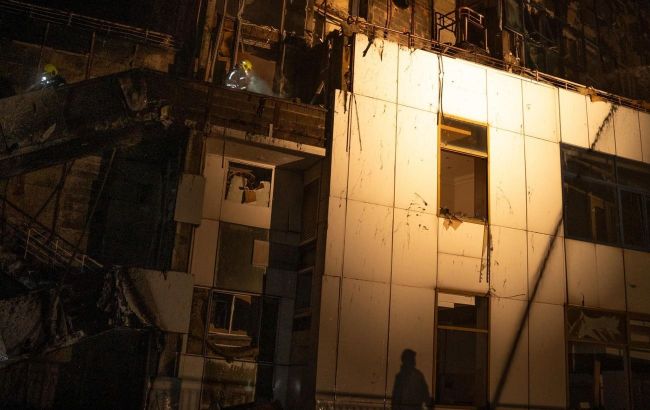 Two people trapped under rubble after Russian shelling of Odesa (facebook.com/DSNSODE)
Two people are trapped in the rubble after a Russian nighttime attack on Odesa, according to the head of the Odesa Regional Military Administration, Oleh Kiper.
He said that the enemy strike targeted the port infrastructure, including a warehouse containing approximately a thousand tons of grain.
According to him, efforts are underway for clearing the debris and removing the grain.
"But unfortunately, we cannot locate two individuals who have not been in contact until now and who were working in this warehouse... They descended into a bomb shelter that was located beneath this warehouse, and there is currently no communication with them," said the head of the Regional Military Administration.
Kiper hopes that they are alive and can be rescued.
Nighttime Shelling of Odesa
On the night of September 25, Russian forces launched a combined attack on Ukraine. Explosions were heard in the Odesa region and in Kryvyi Rih.
In particular, the invaders shelled the port infrastructure in the Odesa region. In Odesa, the maritime station was damaged, a fire broke out in the building of the hotel which is currently non-operational, and grain warehouses were also destroyed.
The occupiers fired 12 Kalibr cruise missiles, two anti-ship missiles P-800 Onyx, and 19 Shahed drones across Ukraine. Ukrainian air defense forces successfully shot down 30 enemy targets.
For more details on the combined aerial attack by the Russians, read RBC-Ukraine's report.