Trillion-dollar GDP: Zelenskyy sets growth goal for ten years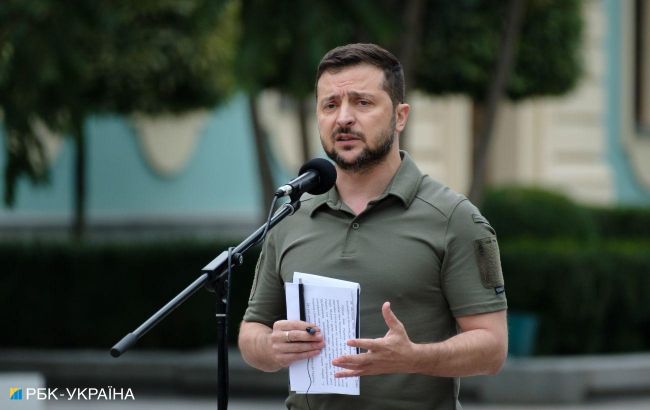 Photo: Volodymyr Zelenskyy (RBC-Ukraine)
In the next ten years, Ukraine's gross domestic product (GDP) should reach $1 trillion. Currently, the GDP stands at $160 billion, reported Volodymyr Zelenskyy during his speech in the Verkhovna Rada (Ukrainian Parliament).
"The fifth milestone for the Ukrainian doctrine that I would like to propose for discussion today is a ten-year transformation," he said.
Zelenskyy emphasized that Ukraine must follow a path that other nations have taken decades to traverse. According to him, Ukraine will receive special attention and trust from the world after the victory. "Every manifestation of such attention and trust should be directed towards the development of Ukraine and all aspects of life in our country," he added.
Zelenskyy outlined several goals: "First, a specific target for Ukraine's GDP is one trillion dollars. Yes, it is a very high bar, and it may seem unrealistic, but Ukraine's potential can achieve it."
He further mentioned that after the victory, Ukraine would abandon the notion that Ukrainian labor should be cheap, as the low labor cost was seen as a competitive advantage for Ukraine.
"Our goal is to achieve a level of remuneration for labor that can be defined by the formula "neighbors in the European Union plus 30 percent". This is a fair goal, a goal for this war. Ukraine will prioritize skilled labor and, therefore, education," he added.
Ukraine's GDP
According to data from the State Statistics Service, Ukraine's GDP for 2022 amounted to 5.2 trillion hryvnias ($160 billion at the average annual exchange rate). Thus, to reach $1 trillion GDP, the economy needs to grow by 6.2 times, with a yearly growth rate of around 20 percent.
The State Statistics Service also reported a 29.1 percent decline in Ukraine's gross domestic product for 2022.
Official forecasts
The forecast for Ukraine's GDP growth of 3.2 percent was included in the state budget 2023 in September of last year and has not changed since.
In April, the National Bank of Ukraine improved its economic growth forecast 2023 from 0.3 percent to 2.0 percent. Economic recovery is expected to accelerate from next year due to reduced security risks and post-war reconstruction.
Meanwhile, the IMF predicts a 1-3 percent growth in Ukraine's economy in 2023. The EBRD forecasts a gain of 1 percent, while the World Bank projects an increase of 0.5 percent. All international organizations highlight the high uncertainty regarding the forecasts.