Strike on village of Hroza: Four people, including children, remain missing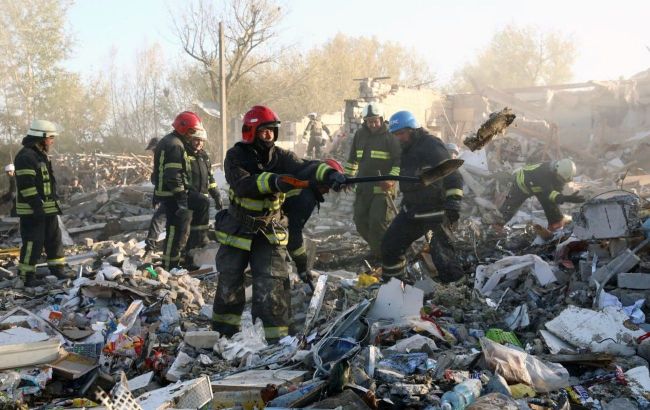 Strike on the village of Hroza: four people, including children, remain missing (Photo: t.me/synegubov)
Rescuers and law enforcement officers have completed their work at the site of the strike in Groza. Four people, including two children, remain missing, according to the head of the investigative department of the police in the Kharkiv region, Serhii Bolvinov.
"Six wounded and fifty-one dead - that is the current result of this rocket attack by Russians. Eleven body fragments, including small ones, were sent for examination yesterday. The remains of bodies collected today will also be studied using DNA laboratories," Bolvinov stated.
According to the head of the police investigative department, as a result of the strike, four residents of Hroza are missing, including two children. After the DNA analysis is completed, it will be possible to determine whether they became victims of the terrorist attack.
Strike on Hroza
Yesterday, on October 5th, Russian terrorists attacked the village of Hroza in the Kharkiv region. The enemy struck with an Iskander missile at a cafe and a store. At the time of the strike, a funeral service was being held for a fallen soldier in the establishment.
Yesterday's strike became the deadliest in terms of casualties in the Kharkiv region since the start of the full-scale war.
The Air Force suspects that the Russians launched the attack on the village of Hroza from the Voronezh region. It took about 10 minutes from the start of the air alarm to the strike.
According to the latest information, according to Oleg Synehubov, the head of the Kharkiv Regional State Administration, as a result of the terrorist attack on Hroza, 52 people have died. One of the injured individuals passed away in a medical facility.