NATO commences implementation of defense plans - Stoltenberg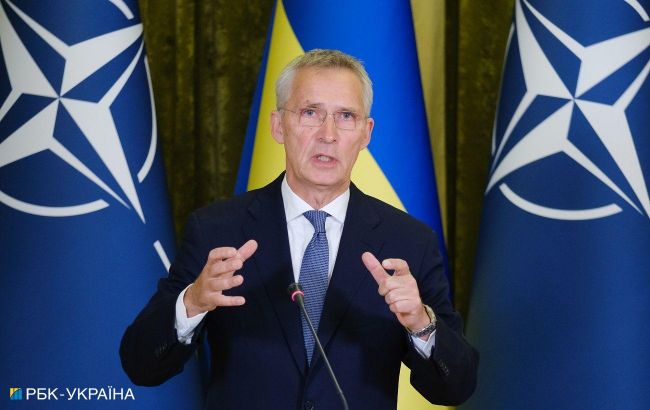 NATO Secretary General Jens Stoltenberg (Vitalii Nosach, RBC-Ukraine)
NATO Secretary General Jens Stoltenberg has announced the commencement of the implementation of defense plans agreed upon at the summit in July, according to a press conference held by Stoltenberg alongside Ukrainian President Volodymyr Zelenskyy on October 11 at NATO headquarters in Brussels.
According to the Alliance's Secretary General, participants at the Contact Group meeting (in the Ramstein format) today will discuss matters related to strengthening Ukraine's defense, with additional military aid being mobilized and coordinated for Ukraine.
"We will also hold a Ukraine-NATO Council meeting today, which we initiated during the Vilnius summit, aimed at strengthening our relations and bringing Ukraine closer to Alliance membership," he said.
Stoltenberg announced discussions regarding new deterrence measures today.
"We agreed on new defense plans at the summit in July, but now we are moving to concrete actions," he stated.
The Alliance's Secretary General explained that this would be realized, in part, through specific steps, such as increasing the number of troops on NATO's eastern flank to 300,000.
"We will also discuss the challenges faced by NATO," he added.
Zelenskyy's statement
In turn, President Volodymyr Zelenskyy spoke about Ukraine's preparation for the upcoming winter period, which he referred to as a "huge challenge" for the country.
"We are getting ready. Today, I am here to reinforce this process," he said.
Additionally, during the Ramstein meeting, the Ukrainian side will discuss counteroffensive actions by the Ukrainian Armed Forces with their partners.
"We will discuss our own priorities, such as pushing Russia out of our Ukraine, how to protect our country and halt the war," emphasized Zelenskyy.
The Ukrainian President also added that the situation in Israel, which has come under attack by the Hamas terrorist group, would also be discussed during the meeting.
"Today's discussion will also touch upon the situation in Israel. Of course, there will be some signals from Ukraine. We are in a state of war, so we understand what terrorist attacks and numerous casualties mean," Zelenskyy stated.
Zelenskyy's participation in Ramstein-16
Today, on October 11, Ukrainian President Volodymyr Zelenskyy arrived in the Belgian capital, Brussels, at NATO headquarters, where he met with NATO Secretary General Jens Stoltenberg.
Furthermore, the head of state, for the first time in an offline mode, will participate in the Ramstein meeting, marking the 16th such meeting.
Also, a meeting of the Ukraine-NATO Council is scheduled for today. Ukraine's Defense Minister Rustem Umerov traveled to Ramstein on behalf of Ukraine.
For more on what Ukraine should expect from Ramstein-16, please refer to RBC-Ukraine's coverage.