Zelenskyy arrives at NATO headquarters to attend Ramstein meeting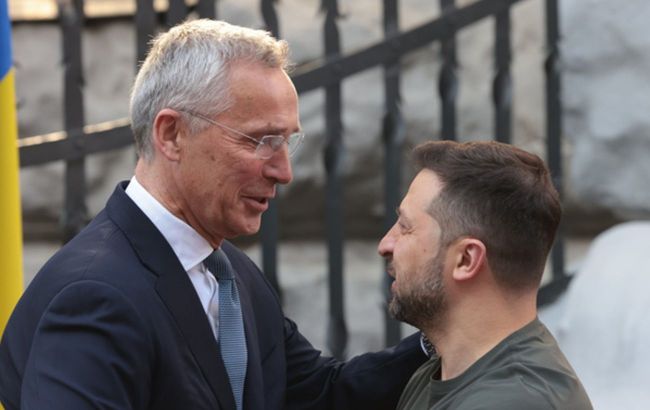 President of Ukraine Volodymyr Zelenskyy and NATO Secretary-General Jens Stoltenberg (Photo: twitter.com/NATOpress)
Ukrainian President Volodymyr Zelenskyy has arrived in Belgium for an unannounced visit to the NATO headquarters in Brussels. He will also, for the first time offline, participate in a meeting of the Ukraine Defense Contact Group in the Ramstein format, said the Ukrainian President on the Telegram channel.
"The visit to the NATO headquarters will be of significant importance for our resilience this winter," emphasized Zelenskyy.
The President will meet with NATO Secretary-General Jens Stoltenberg and U.S. Secretary of Defense Lloyd Austin.
"I will participate in a 'Ramstein' format meeting for the first time offline. I have an important address to all present defense ministers of the countries participating in this powerful coalition," Zelenskyy said.
Additionally, the Ukrainian President will negotiate in Brussels with the Prime Minister of Belgium, Alexander De Croo.
"The main thing is our joint defense of freedom and people," he noted.
Earlier, NATO spokesperson Dylan White announced on Twitter that Secretary-General Stoltenberg would hold a joint meeting with President Zelenskyy at the Alliance headquarters.
"A meeting of NATO Defence Ministers will begin later today," added the NATO spokesperson.
Zelenskyy's visit to Belgium
Today, on October 11, Ukrainian President Volodymyr Zelenskyy arrived on a visit to the capital of Belgium, Brussels, where the next meeting in the Ramstein format is scheduled. The head of state is expected to conduct a series of meetings.
Ramstein-16
On Wednesday, October 11, another meeting in the Ramstein format on Ukraine's defense will occur at the Brussels NATO headquarters. It will be the first meeting in this format.
On the same day, a meeting of the Ukraine-NATO Council is planned. Ukraine is represented at Ramstein by Defense Minister Rustem Umerov.
What to expect from Ramstein-16 for Ukraine - in the material by RBC-Ukraine.