Shelling of Kryvyi Rih: casualties doubled, 5-7 people trapped under debris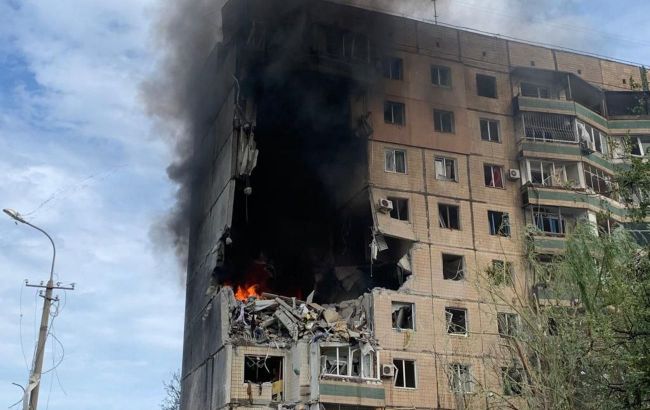 Due to the shelling of Kryvyi Rih, the number of casualties and injured increased (Photo: t.me/dsns_telegram)
Kryvyi Rih witnessed a devastating attack resulting in the death of two individuals and leaving 20 others injured. Tragically, there may be an additional 5-7 people trapped under debris.
The Minister of Internal Affairs, Igor Klymenko, made this somber announcement during a TV interview.
"Currently, 20 people have sustained injuries, with two fatalities confirmed. Approximately 5-7 individuals are believed to be buried under the rubble," he disclosed.
According to the State Emergency Service of Ukraine, a remarkable rescue effort managed to save a child born in 2013 from the aftermath of the attack.
Aftermath of the Kryvyi Rih shelling (Photo: State Emergency Service of Ukraine)
Updated: reports now indicate that the number of injured has risen to 25 people due to the attack on Kryvyi Rih.
"Based on preliminary information, two people have lost their lives, and 25 others have been injured. Among the victims are four children," stated officials from the Prosecutor General's Office.
Rescue and search operations are currently ongoing, and authorities are working diligently to determine the exact number of casualties.
The Kryvyi Rih Attack
On Monday, July 31st, Russian forces launched two missiles at Kryvyi Rih in Dnipropetrovsk region. The region was initially alerted by explosions, prompting an air raid warning. Later, it was revealed that one missile struck a residential building, while the other hit an educational facility. Initially, one fatality and ten injuries were reported.