Shelling of Chernihiv's center: Photo report from scene of tragedy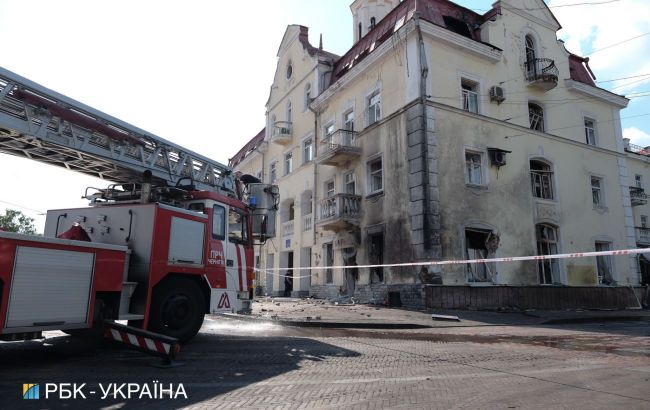 On August 19, the occupants shelled the center of Chernihiv (Photo: Vitalii Nosach, RBC-Ukraine)
Russian terrorists struck the center of Chernihiv during the daytime on August 19, when there were many people at the time of the attack. The shelling resulted in casualties and dozens of injured.
RBС-Ukraine has published a photo report from the scene of the tragedy in article below.
Local authorities report that the occupiers struck Chernihiv, presumably with a ballistic missile. The aggressors targeted the city center.
As a result of the attack, the drama theater, square, courthouse, Chernihiv Regional State Administration building, shops, restaurants, cafes, and other public establishments have been damaged.
Minister of Internal Affairs Ihor Klymenko reveals that there is a public transport stop near the scene of the tragedy. A bus had stopped there before the strike.
According to him, the casualties included people who were on the bus, crossing the road, and returning from the church. There is also a park near the site of the incident where children often play.
As of 15:30, there are 117 reported casualties as a result of the rocket attack, with seven people confirmed dead. Among the injured and victims are children.
For all the details of this cynical attack by the Russians, read the RBC-Ukraine article.