Russians violating safety rules at ZNPP, posing nuclear accident threat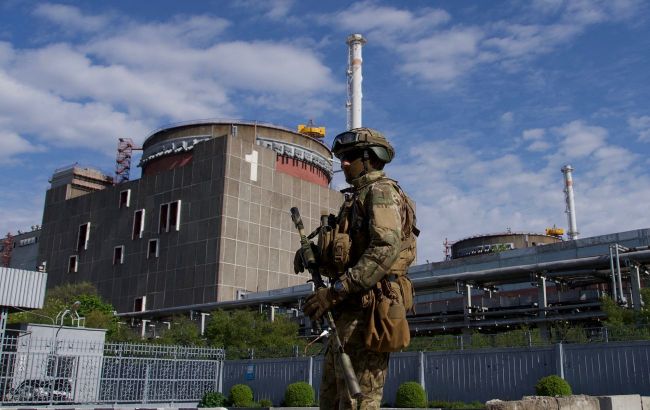 Photo: Russian occupiers at the Zaporizhzhia NPP in Enerhodar (Getty Images)
At the Zaporizhzhia Nuclear Power Plant (ZNPP), captured by the Russian occupiers, interventionist personnel are damaging equipment important for the plant's safety. There is a risk of failure of diesel generators, which threatens a nuclear accident, reports the National Nuclear Energy Generating Company «Energoatom».
Energy experts point out that the Russian invaders continue to violate the technical requirements for the operation of the ZNPP equipment. The state-owned enterprise specified that this primarily concerns power units Nos. 2, 4, and 6 of the station.
Thus, the fake management of the interventionist-controlled Zaporizhzhia NPP ordered the use of Russian-made lubricant for the standby diesel power plant (SDPP). However, when heated, this lubricant begins to foam intensively.
"This leads to a decrease in pressure in the system and the automatic shutdown of diesel generators," warns "Energoatom".
What it can lead to
Ukrainian energy experts draw attention to the fact that similar actions of the incompetent and illegitimate management of the Rosatom ZNPP lead to the inevitable degradation of equipment and systems important for the station's safety.
"Ultimately, this may provoke the failure of the most important equipment of the safety systems - diesel generators, with a subsequent transition to a nuclear and radiation accident," "Energoatom" Central Committee says.
As the head of Energoatom Petro Kotin emphasizes, after the de-occupation of the ZNPP, everyone who is now carrying out the criminal orders of the occupiers, violating the licenses of the Ukrainian regulator, will be brought to justice.
Other violations
Energy experts also add that the situation at the station is worsened by other violations of operating rules. In particular, we are talking about recent attempts to transfer power units of the Zaporizhzhia NPP from a safe cold state to a hot one, which increases the probability of a radiation accident.
Yesterday, November 16, "Energoatom" announced that reagents are still leaking from the first circuit to the second at the ZNPP as a result of the actions of the interventionists at the 5th power unit.
On November 14, a partial blackout occurred at the station - power unit No. 6 of the ZNPP was de-energized, and then diesel generators and security systems were started. The unit was in this mode for 90 minutes.
Earlier the Ministry of Energy reported that the situation at the ZNPP was deteriorating. As Minister Herman Halushchenko said, the station had not been working for over a year.