Russians use S-300 missiles to shell village near Zaporizhzhia: Fatalities and injuries reported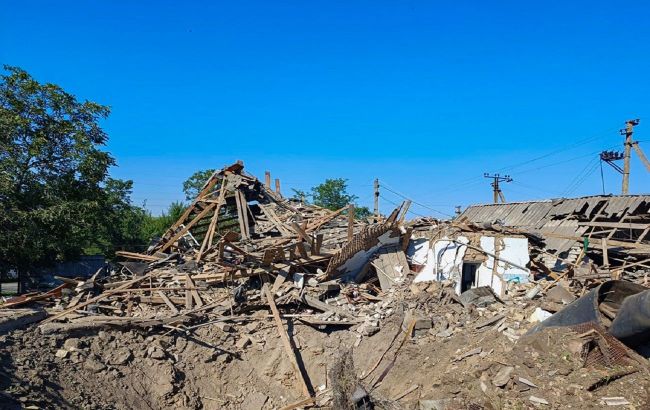 Photo: Consequences of shelling in the Zaporizhzhia region (zp.npu.gov.ua)
Russian forces continued to attack settlements in the Zaporizhzhia region over the past 24 hours. Two people were killed as a result of a missile strike, while another person sustained injuries, according to the Zaporizhzhia Regional Police Department.
Casualties of the shelling
The residents of Stepne village in the Zaporizhzhia district suffer under the armed pressure of the Russian army,
The occupiers targeted residential buildings with S-300 surface-to-air missile systems. As a result of the missile terror, a 70-year-old woman, and a 77-year-old man lost their lives.
"Additionally, a 64-year-old wife of the deceased was taken to the hospital with shrapnel injuries," the police stated.
What else is known
During the past day, the occupants attacked 24 settlements in the Zaporizhzhia, Polohy, and Vasylivske districts.
Photo: Consequences of Russian strikes (zp.npu.gov.ua)
Hits were recorded in Stepne of the Zaporizhzhia district, Orikhove, Huliaipole, Zaliznychne, Novodarivka, Novoandriivka, Levadne, Verkhnia Tersa, Bilohiria, Poltavka, Temyrivka, Shcherbaky, Malynivka, Huliaipilske, Charivne, Olhivske of the Polohy district, Stepnohirsk, Mali Shcherbaky, Kamianske, Piatykhatky, Stepove, Pavlivka, Lukianivka, Plavni of the Vasylivske district.
Today, it was already reported that Russian occupants launched four rockets toward the Zaporizhzhia district in the morning. A woman sustained minor injuries due to the enemy attack.
Tonight shelling of Ukraine
Today, after 4:00 am, Russians carried out a missile strike on peaceful cities in Ukraine. The attack targeted Lviv, Dnipro, Lutsk, Khmelnytskyi, Zaporizhzhia, and Smila.
In Lutsk, the Russians targeted an industrial facility, resulting in three casualties and three others injured. In the Lviv region, 19 people were injured due to the attack, and in Dnipro, an industrial facility was damaged, causing injuries to two people.
Furthermore, the Air Defense Forces managed to intercept 16 out of 28 cruise missiles launched by the Russians toward Ukraine.