Russians launched a rocket at Nova Poshta terminal in Kharkiv region: Casualties and injuries reported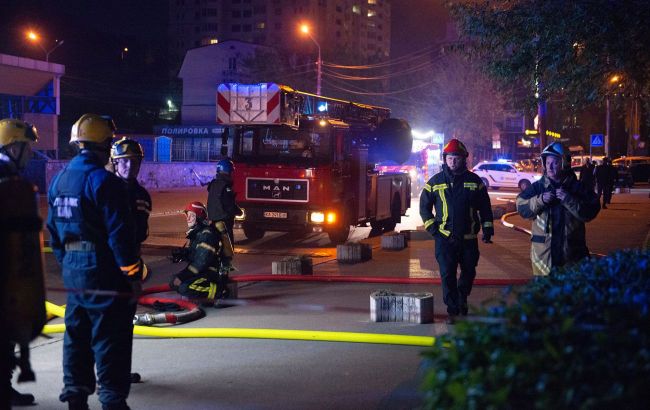 In the Kharkiv region, the Russians shelled the Nova Poshta terminal (t.me/police_kh_region)
On the evening of October 21, the Russians launched rocket attacks on the Kharkiv region, and the Nova Poshta terminal was destroyed. It is reported that there are casualties and at least 13 people were injured, according to the publication by the President of Ukraine, Volodymyr Zelenskyy.
He stated that during the attack on a civilian target, people lost their lives, and at least 13 others were wounded. All relevant services are working at the scene, and a rescue operation is underway.
In response to this, Zelenskyy emphasized the need to increase pressure on the state-terrorist and to respond to Russian terrorism with daily results on the front lines.
"We need to strengthen the unity of the world in the fight against terrorism even more. And we are doing that. Russia will not achieve anything through terrorism and killings. The end for all terrorists is the same: accountability for their actions," the president said.
Later, the head of the Kharkiv Regional State Administration, Oleg Syniehubov, clarified that the current death toll is six people, and the number of wounded has risen to 14, including individuals in critical condition.
"Medical professionals are providing all necessary assistance. Relevant services continue to work at the scene to mitigate the consequences," Syniehubov wrote.
Explosions in Kharkiv and the region
Earlier in the evening, local authorities reported hearing explosions in Kharkiv and the surrounding region, claiming it was due to an enemy missile attack. Prior to this incident, Kharkiv was shelled by Russian forces on October 18, leading to power outages in the city.
On October 6, Russia conducted missile strikes on the city center of Kharkiv using Iskander missiles. Residential buildings were targeted, resulting in dozens of casualties and the tragic death of a child.