Russians hit store with missile near Kupiansk: Almost fifty dead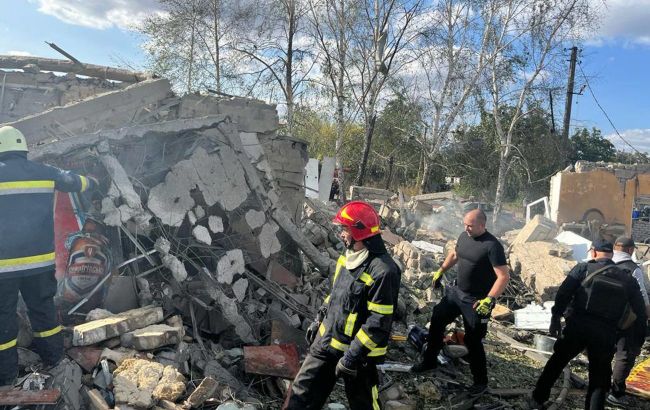 Russians hit a store in a village near Kupyansk (Photo: t.me/synegubov)
Russian occupiers today, October 5, launched a missile strike on the village of Groza in the Kupyansk district. Forty-eight people were killed, according to Ukrainian President Volodymyr Zelenskyy and the Head of the Office of the President Andriy Yermak on Telegram channels.
"The Russians shelled a civilian object in the village of Groza, Kupyansk district. Preliminarily, there is information about 48 dead. Among them is a child, a 6-year-old boy. It is also known about six wounded, including one child, a girl," Yermak wrote.
Photo: aftermath of the missile strike on the village of Groza (t.me/synegubov)
According to him, the analysis of the debris is ongoing.
Zelensky's reaction
The head of the state has already responded to the missile strike by the occupiers.
"A demonstratively cruel Russian crime - a rocket strike on an ordinary grocery store, a deliberate terrorist act," he noted.
Zelenskyy emphasized that Russian terror must be stopped. Anyone who helps the Russian Federation bypass sanctions is a criminal; everyone who supports the aggressor country keeps evil.
"These and similar terrorist acts are needed by Russia only for one thing: to make its genocidal aggression a new norm for the whole world. And I thank every leader, every nation that supports us in defending life," the head of the state added.
He reminded that he is currently at the summit of the European Political Community, where he discusses with the leaders of European countries strengthening Ukrainian air defense and supporting our soldiers.
"And to the terrorists, we will respond. Quite fairly. And powerfully," concluded the president.
As of 2020, about half a thousand people lived in the village of Groza in the Kupiansk district.
According to the Prosecutor General's Office, there is information about 49 dead and seven wounded due to the missile strike on a store in the village of Groza.
Shelling of the Kharkiv region
Recall that Russian occupiers regularly shelled populated areas in the Kharkiv region, resulting in the death and injury of civilians.
In particular, on October 2, enemy soldiers targeted multi-story buildings in Kupiansk. A civilian resident was injured.