Occupiers carry out drone attack at night, infrastructure facility hit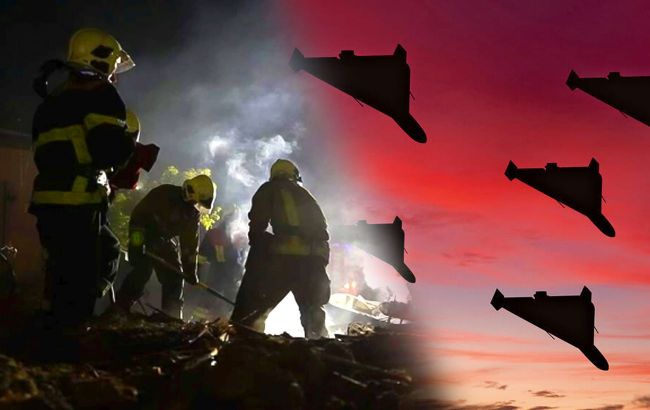 Photo: Consequences of a Russian nighttime attack on Ukraine (collage by RBC-Ukraine)
Russian invaders carried out another aerial attack on the southern regions of Ukraine last night, using combat drones. Ukrainian air defense intercepted the enemy targets, but there was a hit, inform Natalia Humeniuk, Head of the United Coordinating Press Center of Security and Defense Forces of the South of Ukraine, and Vitalii Kim, the head of the Mykolaiv Regional Military Administration.
Russian forces directed kamikaze drones in two waves, with three UAVs in each wave, and the attack targeted the Mykolaiv and Kherson regions.
"In total, there were six drones, and five of them were destroyed," the officer reported.
Humeniuk clarified that two Shahed drones were shot down by Ukrainian air defense systems in the Mykolaiv region, while three more were downed in Kherson.
"Unfortunately, there was an impact on infrastructure facility. A fire occurred, but it is not critical and is under control, with rescuers at work," Humeniuk said about the incident in the Mykolaiv region.
She also mentioned that no civilians were harmed as a result of the attack.
According to Humeniuk, it appears that the enemy is trying to adapt and find a new, more effective approach during the current aerial attacks.
"They are adapting and attempting to find a method that will be maximally effective for them," she noted.
As the head of the Mykolaiv Regional Military Administration reported, during the night of October 27, attacks by enemy Shahed 131/136 drones were recorded outside the town of Voznesensk.
"As a result of the strike, a fire occurred, which was localized by 06:00. There were no casualties," he said.
Russian aerial attacks
Russian occupiers conduct almost daily aerial attacks on Ukrainian cities, using various types of rockets, cluster munitions, drones, and precision-guided aviation bombs.
In a recent attack, during the night of October 25, the enemy once again launched kamikaze drones over Ukraine. In total, 11 drones were detected in our country's airspace, all of which were shot down by air defense forces. However, some fragments fell to the ground.
It was later revealed that the enemy struck near the Khmelnytskyi Nuclear Power Plant. As a result, there were disruptions in electricity supply in the towns of Slavuta and Netishyn. The explosions did not affect the operation of the plant, but some of its buildings were damaged.