Russia targets Khmelnytskyi nuclear power plant, power outages reported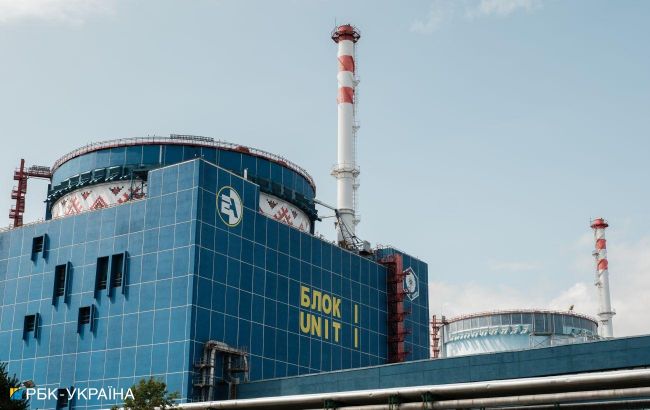 Photo: Russia struck near the territory of the Khmelnytskyi Nuclear Power Plant (Vitalii Nosach, RBC-Ukraine)
Russia launched a strike on the territory near the Khmelnytskyi Nuclear Power Plant at night, resulting in power outages in the cities of Slavuta and Netishyn, informs the Ministry of Energy.
"The enemy launched an attack on the territory near the Khmelnytskyi Nuclear Power Plant overnight," the press service stated.
It was mentioned that the explosion caused damage to windows in administrative and laboratory buildings.
"Due to damage to power lines, 1,860 consumers in the cities of Slavuta and Netishyn in the Khmelnytskyi region have been left without electricity," the Ministry of Energy noted.
The press service also added that restoration work will begin as soon as energy workers are allowed to access the damaged area.
Attack on the Khmelnytskyi region
This night, once again, the occupying forces attacked Ukraine with Shahed drones. In total, the enemy used 11 attack UAVs. All of them were destroyed by our defenders of the sky.
However, the debris fell on the territory of the Khmelnytskyi region, which has been under attack for the fourth consecutive day.
In particular, the debris of the downed drones fell on a critical infrastructure object in the city of Slavuta, Shepetivka district.
Also, an explosive wave damaged 11 multi-story and 9 private houses, as well as the police department and fire stations in the cities of Slavuta and Netishyn (where Khmelnytskyi Nuclear Power Plant is located).
It is already known of at least 20 casualties as a result of the night attack. The mayor of Slavuta, Vasyl Sydor, noted that among them there were severe cases.
Currently, there is no educational institution in Slavuta that has not been affected by the explosive wave tonight. The mayor added that all 22 educational institutions in the city have suffered damage without exception. Many other objects have also been affected: boiler houses, and buildings of different purposes. Schools and kindergartens are closed today.