Russian ships in Black Sea hide, fear attacks by Ukraine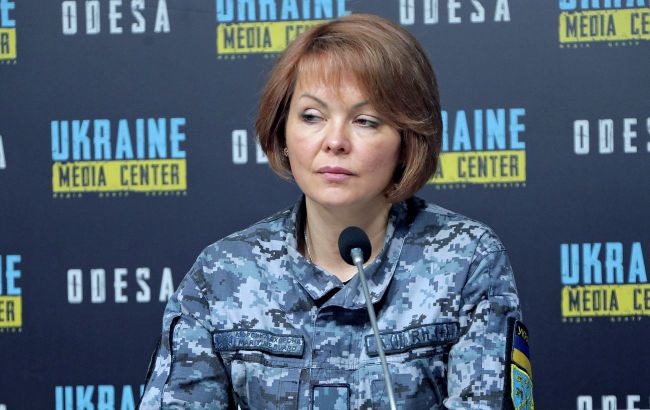 Head of the United Coordinating Press Center of Security and Defense Forces of the South of Ukraine, Natalia Humeniuk (photo: Getty Images)
Russian ships in the Black Sea are dispersing and attempting to conceal themselves. Presumably, the occupants fear new attacks from the Ukrainian Defense Forces, according to the Head of the United Coordinating Press Center of Security and Defense Forces of the South of Ukraine, Natalia Humeniuk, during a telethon broadcast.
"I can compare this state in the Black Sea fleet of the Russian Federation to what is called "pry nadii" ("pregnant") in Ukraine because they are constantly nervously awaiting the "baby," experiencing mood swings, feeling queasy, and trying to hide behind civilian vessels," she said.
According to the spokesperson, the ships of the Russian Black Sea Fleet are dispersed along the route from the southeastern coast of Crimea to Novorossiysk. In doing so, the occupants hide their ships behind civilian vessels. This buffer zone was intentionally created.
"In their bases, they have also set up bonnet barriers. There are no missile carriers on duty; evidently, they are in their bases, arming and preparing to venture out to sea," added Humeniuk.
The spokesperson also noted that movement across the Crimean Bridge is currently restricted for both cars and trains.
"The Crimean Bridge remains in the same regime – not very healthy, not very functional, not very necessary, in short, redundant. Because there are significant gaps in its capacities, it cannot function fully," emphasized Humeniuk.
Ukrainian maritime drones
The head of the SSU (Securite Service of Ukraine), Vasyl Maliuk, confirmed that Ukraine had attacked the Crimean Bridge and Russian ships in the Black Sea using maritime surface drones. These unmanned vehicles are a unique development of the SSU and civilian engineers.
Maliuk emphasized that the production of maritime drones is located in Ukraine, but the factories are situated underground.
For more details on the types of drones Ukraine is using to target Russia in the Black Sea, read our article.