Russian losses in the war: RF depleted at least half of its airborne forces in Ukraine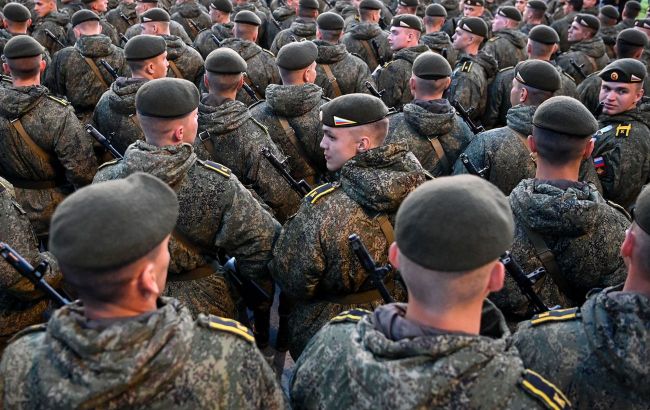 Russia depleted at least half of its airborne forces in Ukraine (Getty Images)
According to the Twitter account of the British Ministry of Defense, Russia has suffered a staggering loss of at least half of its paratrooper forces. These forces were deployed in the conflict against Ukraine in 2022, with estimates suggesting a minimum of 15,000 soldiers impacted.
British intelligence revealed that on August 2nd, coinciding with the commemoration of Russia's Airborne Troops Day, unauthorized details about Russia's substantial losses during the conflict were inadvertently disclosed.
General Colonel Mikhail Teplynsky, the commander of Russia's airborne forces, revealed that 8,500 paratroopers had been wounded and subsequently either returned to duty or chose not to leave the front lines.
This revelation, however, was swiftly removed from the official channels of the Russian Ministry of Defense. Teplynsky did not explicitly state the number of Russian paratroopers killed or seriously injured in Ukraine.
"However, extrapolating Teplynsky's figures, endorses the assessment that at least 50% of the 30,000 paratroopers who deployed to Ukraine in 2022 have been killed or wounded," British intelligence noted.
Russian military losses exposed
According to information provided by Ukrainian Armed Forces General Staff, Russian aggressors have now suffered over 249,000 military casualties in the ongoing war with Ukraine. Furthermore, Ukrainian armed forces have successfully neutralized thousands of pieces of heavy equipment, drones, missiles, and hundreds of aircraft and helicopters.
Importantly, it should be emphasized that Russia has been concealing its losses. The Russian Ministry of Defense has not disclosed the number of soldiers who have lost their lives in the war against Ukraine. This extends to various military formations, including the Wagner Private Military Group.