Russian defense line breached: Ground Forces chief provides updates on Bakhmut front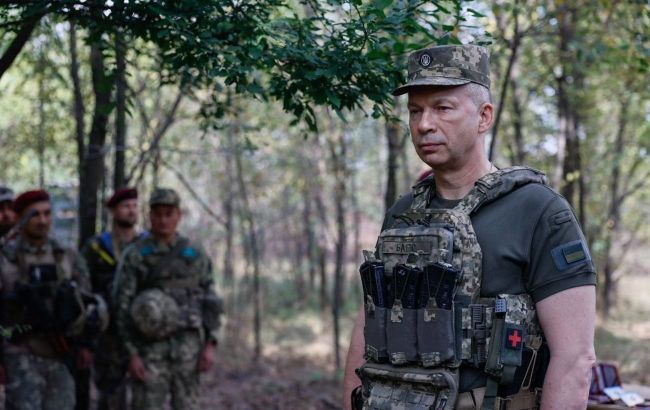 Commander of the Ground Forces of the Armed Forces of Ukraine Oleksandr Syrskyi (t.me/militarymediacenter)
Ukrainian defenders have broken through the Russian defense line in the area of Bakhmut. Currently, the enemy is attempting to counterattack, but unsuccessfully, according to Commander of the Ground Forces of the Armed Forces of Ukraine Oleksandr Syrskyi, Military Media Center reports.
According to him, the Russians are not giving up on their plans to resume the offensive in the Kupiansk and Lyman directions.
"Fierce battles continue in the Bakhmut area. After losing the settlements of Andriivka and Klishchiivka last week, the enemy is conducting numerous counterattacks from various directions, unsuccessfully trying to regain lost positions," he noted.
Syrskyi notes that these two settlements were important for the enemy's defense, which extended from Bakhmut to Horlivka.
"As a result of the successful actions of our troops, the enemy's defense line was breached, which he tried to close by throwing all available reserves into battle," he added.
Syrskyi also notes that Ukrainian military forces are continuing to advance. A meeting with brigade commanders currently stationed in the Bakhmut area was held to coordinate tasks.
During the meeting, he listened to assessments of the situation, and a number of problematic issues were identified, most of which were resolved on the spot. The meeting also discussed future actions.
Recapturing Andriivka and Klishchiivka
Last week, on September 15, it became known that Ukrainian defenders had liberated the village of Andriivka near Bakhmut.
Today, on September 18, the Ministry of Defense of Ukraine confirmed the recapture of Klishchiivka. The ministry clarified that within just a week, the territory of 2 square kilometers on the Bahmut front had been liberated from the Russians.