Russia imported 30 times more drones from China than Ukraine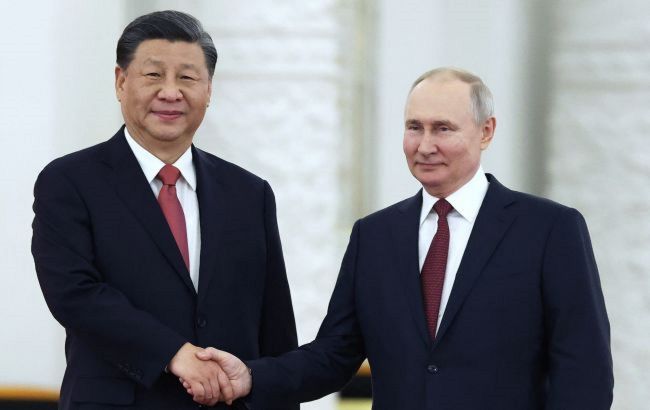 Xi Jinping and Vladimir Putin (Getty Images)
Chinese companies continue to supply Russia with non-lethal weapons. This year, Russia has imported more than $100 million worth of drones from China, 30 times more than Ukraine, Politico reports.
Body armor supplies from China
According to customs records obtained by Politico, Russian importers have declared orders for hundreds of thousands of bulletproof vests and helmets manufactured by the Chinese company Shanghai H Win.
"Evidence of this kind shows that China, despite Beijing's calls for peace, is pushing right up to a red line in delivering enough nonlethal, but militarily useful, equipment to Russia," the article says.
Chinese exports of ceramics, a component used in body armor, increased by 69% to Russia to more than $225 million, while to Ukraine they dropped by 61% to just $5 million.
Russia receives more drones than Ukraine
The volume of Chinese exports of dual-use goods to Russia during the war is confirmed by customs data, while Ukraine is also a Chinese customer, its imports of most of the equipment discussed in this story have fallen sharply.
This year, Russia has imported more than $100 million worth of drones from China - 30 times more than Ukraine.
Supply of DJI drones
The buyers of DJI and its subsidiaries' drones are companies called "Giganshchina" ("Hugeness") and "Vozdukh" ("Air'). Another is "Nebesnaya Mekhanika" ("Heavenly Mechanics"), which was the official distributor of the Chinese company in Russia before the war.
A DJI spokesperson said that the company and its subsidiaries voluntarily ceased all shipments and operations in Russia and Ukraine on April 26, 2022.
DJI said it had also severed its relationship with Heavenly Mechanics, although the Russian company filed additional declarations of drone deliveries to the Chinese company on September 15 and March 27 of this year.
A search in ImportGenius shows that the Chinese company Iflight continues to supply DJI drones to "Heavenly Mechanics" via Hong Kong through the local company Lotos. The last shipment was delivered on October 10 last year. An obvious anomaly is that Russia is listed as the country of origin of the delivery.
China is on the Russian side in the war against Ukraine
Helena Legarda, a leading analyst specializing in Chinese defense and foreign policy at the Mercator Institute for Chinese Studies, said that China, despite all its claims to be a neutral player, is supporting Russia's position in this war.
According to Legarda, if China crosses the red line and sells weapons or military equipment to Russia, she expects the EU to impose secondary sanctions.
But, she added, equipment such as body armor, thermal imagers, and even commercial drones that can be used in offensive operations on the front lines are unlikely to trigger a sanction's response.
China-Russia relations
China has maintained closer ties with Russia since the start of the full-scale invasion. In particular, Beijing refused to join the sanctions imposed by the United States against the aggressor country.
China and Russia share a mutual interest in challenging U.S. dominance in the world order, as their relations with democratic countries are becoming increasingly tense. It is worth noting that the United States has repeatedly warned China against assisting Russia in its war against Ukraine or helping it evade sanctions.
In addition, China influences Russia. In particular, Chinese leader Xi Jinping has personally warned Russian dictator Vladimir Putin against a nuclear strike on Ukraine.
Recently, French Presidential Advisor Emmanuel Bonn said that China could provide military assistance to Russia in its war of aggression against Ukraine.