Russia fired drones and two missiles at Ukraine overnight: Consequences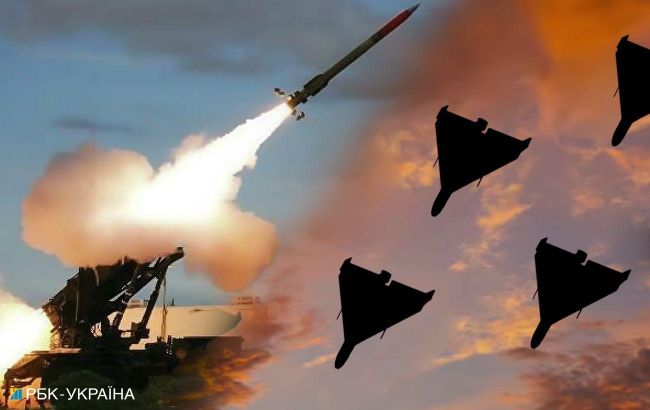 RBC-Ukraine collage
On the night of November 10, Russian forces once again attacked Ukraine using Shahed kamikaze drones and two guided aviation missiles. Almost all targets were successfully intercepted by Ukrainian air defense forces.
More details on the consequences of the night attack below.
The following sources were used in the preparation of this material: Telegram of the Air Forces of the Armed Forces of Ukraine, Telegram of the Kyiv Operational and Tactical Group, and Telegram of the Ministry of Internal Affairs of Ukraine.
According to the Air Forces, a total of six Shahed-136/131 attack UAVs were launched from the area of ​​Primorsko-Akhtarsk (Krasnodar Krai, Russia), one guided aviation missile Kh-31, and one cruise missile Kh-59 from the airspace of the occupied Kherson region.
Air defense assets managed to destroy five attack drones and one guided aviation missile Kh-59 within the territories of the Dnipropetrovsk, Kharkiv, Mykolaiv, Poltava, and Kyiv regions.
As reported by the Kyiv Operational and Tactical Group, Russian occupiers targeted the region with unmanned aerial vehicles. The air raid lasted for almost one and a half hours.
Air defense forces were deployed in the region, successfully intercepting all hostile targets. No hits on critical or residential infrastructure were recorded, and there were no casualties.
In the Cherkasy region, fragments of the Shahed fell in the private sector in Zolotonosha district. Several buildings were damaged, but there were no casualties.
Reduction in Russian shelling
In recent months, occupiers have significantly reduced the number of combined strikes on Ukrainian territory using missiles and attack drones. Experts and military personnel agree that the Russian forces may be waiting for colder weather to increase pressure on the Ukrainian energy system.
Previously, the Main Intelligence Directorate said that Russia might resume missile attacks on Ukraine with the onset of cold weather. Currently, occupiers have accumulated more than 800 precision-guided missiles.