Russia attacks aid distribution center in Orikhiv: 4 casualties, multiple injuries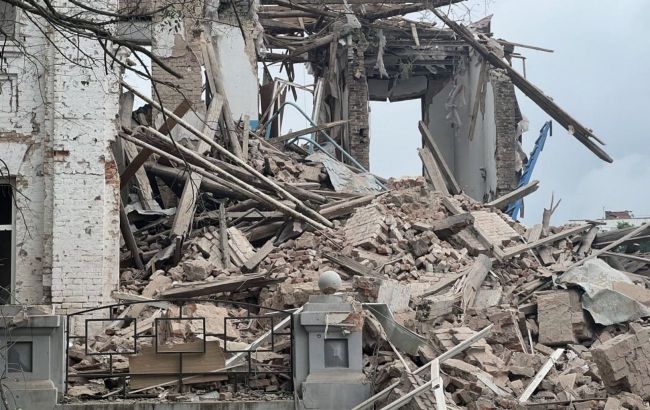 Russia dropped an aerial bomb on Orikhiv city, Zaporizhzhia region (Photo: t.me/zoda_gov_ua)
Russian Forces dropped an aerial bomb on a humanitarian aid distribution center in Orikhiv town, Zaporizhzhia region. As a result of the terrorist attack, four people were killed, and 11 injured.
According to a statement by Yurii Malashko, the Head of the Zaporizhzhia Regional Military Administration, the Russian aggressors committed a war crime in the frontline town of Orikhiv. They struck a residential neighborhood with a guided aerial bomb while distributing humanitarian aid.
Four people were reported dead at the scene, including three women aged 43, 45, and 47, as well as a 47-year-old man. "Eleven residents were hospitalized with injuries of varying degrees of severity," added Malashko.
Update: According to the police, the aerial bomb has caused extensive damage, nearly demolishing the building.
"Over a dozen people were found under the rubble of the destroyed facility, both inside and near," said the police.
Residential buildings and other civilian infrastructure located near the epicenter of the blast were also damaged. The bodies of the four victims, three women born in 1976, 1978, and 1980, and a man born in 1976, were recovered from the debris. Eleven rescued citizens with varying degrees of injuries were provided primary medical assistance and subsequently hospitalized.
"Rescue operations are ongoing, and sappers are determining the type of munition used against the civilian population," stated the Ministry of Internal Affairs.
Shelling of Zaporizhzhia region
Part of the Zaporizhzhia Region has remained temporarily occupied by Russian forces since the large-scale invasion. The occupiers have targeted several populated areas in the Dnipropetrovsk region, including Nikopol and Marganets, following the occupation of Energodar in the Zaporizhzhia Region. In these areas, the occupiers frequently employ guided aerial bombs and airstrikes. Orikhiv and Hulyaipole are among the most heavily affected towns by the Russian Federation's attacks. For instance, on April 11, Russian occupiers launched an aerial rocket attack on Hulyaipole, Zaporizhzhia region.