Rift in support of Ukraine: Ukrainian MFA strongly denies allegations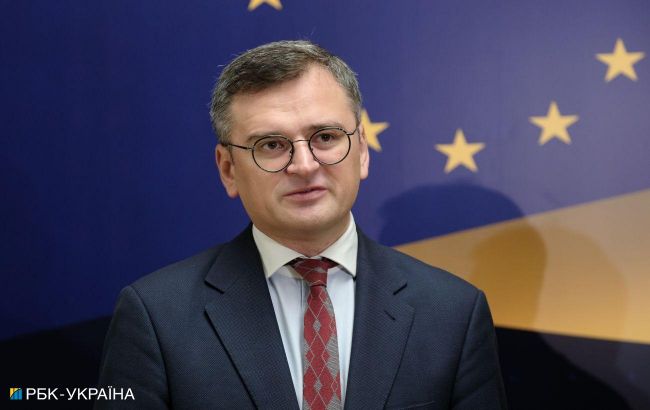 Minister of Foreign Affairs of Ukraine, Dmytro Kuleba (Photo: Vitalii Nosach, RBC-Ukraine)
All statements about a supposed weakening of support for Ukraine from its partners do not correspond to reality. This is demonstrated in particular by today's meeting of the foreign ministers of EU countries, which took place in Kyiv, according to Minister of Foreign Affairs of Ukraine, Dmytro Kuleba.
"I can respond to everyone who tries to create the impression and spreads information about the supposed weakening of support for Ukraine, a division in support: you will not see it happen. No matter what situations arise, we will always find solutions. Putin's biggest hope is that the West and the world will tire of standing by Ukraine in this war. Russia is devoting huge resources to this," he said.
At the same time, Kuleba notes that one should not play into the hands of the aggressor country. However, the minister emphasizes that this is not about Ukraine and its partners, but about those so-called experts or journalists who spread the thesis of "weakening support."
"Because there is a clear understanding that Russia today is a threat to all of Europe. In a broader sense, the whole world. But we have unity," he said.
The minister emphasizes that in the case of convening 27 foreign ministers, EU High Representative Josep Borrell, and other members of the European Commission for a meeting in Kyiv, it is not just about symbolism.
"This is not symbolic support. This is a concrete tool to refute these narratives of lack of unity. And this visit was prepared for a long time. And everyone showed the political will to be here today and talk about concrete things," Kuleba added.
Support for Ukraine from allies
It should be noted that recently there have been statements about the supposed weakening of support for Ukraine in the context of Russia's large-scale invasion.
In particular, political developments in the United States and Slovakia have raised concerns about support for Ukraine from the EU and NATO.
In the United States, temporary government funding was approved without assistance to Ukraine. However, Kuleba stated that what happened in the United States was an incident, not a systemic issue.
Furthermore, in the Slovakian elections, the anti-Ukrainian party Smer-SD, led by former Prime Minister Robert Fico, received the most votes. The minister also stated that it was too early to say how this would affect Ukraine.