'Putin wanted to restore glory of Russian empire, and now is begging Kim Jong Un for help' - U.S. State Department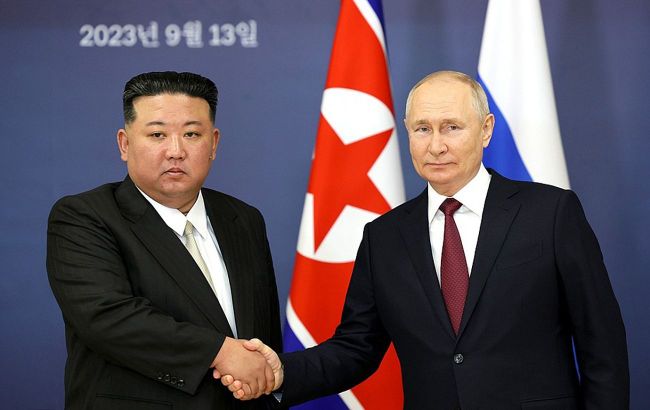 Vladimir Putin and Kim Jong Un (Photo: kremlin.ru)
Starting a full-scale war against Ukraine, Russian dictator Vladimir Putin aimed to restore the glory of the Russian Empire. However, his ambitions have failed, and now he is seeking help from another dictator, North Korean leader Kim Jong Un, according to the U.S. State Department spokesperson Matthew Miller's statement during a briefing.
"Vladimir Putin launched this war thinking he was going to restore the glory of the Russian empire, failed in all of his maximalist, imperialist aims, and now a year and a half later, after losing tens of thousands of Russian soldiers and spending billions and billions of dollars, here he is begging Kim Jong-un for help. So it says something about the overall context of how this war is going for Russia," he said.
Miller mentioned that the U.S. has already imposed sanctions against individuals who act as intermediaries in selling weapons between North Korea and Russia. He added that the United States will not hesitate to implement additional measures if necessary.
At the same time, the spokesperson noted that the U.S. has not yet seen the complete picture of this meeting and does not know what its results will be.
"When you see Kim Jong-un vowing to provide full, unconditional support for Russia's so-called "sacred fight" to defend its security interests, which of course is not what it's doing with respect to the war in Ukraine, that of course is troubling," he said.
He added that the U.S. believes that Putin and Kim Jong Un discussed military supplies.
Kim Jong Un's visit to Russia
On September 13, North Korean leader Kim Jong Un arrived in Russia and met with dictator Vladimir Putin. The meeting took place in Russia's Far East at the Vostochny Cosmodrome. Western media reported that Kim Jong Un bombarded Russians with questions about the construction and the launch of ballistic missiles.
Furthermore, Kim Jong Un invited Putin to visit North Korea, and the Kremlin leader supposedly agreed.
More details about the meeting between Putin and Kim - in the RBC-Ukraine material.