Putin-Kim Jong Un meeting: What Russia and North Korea will gain after their talks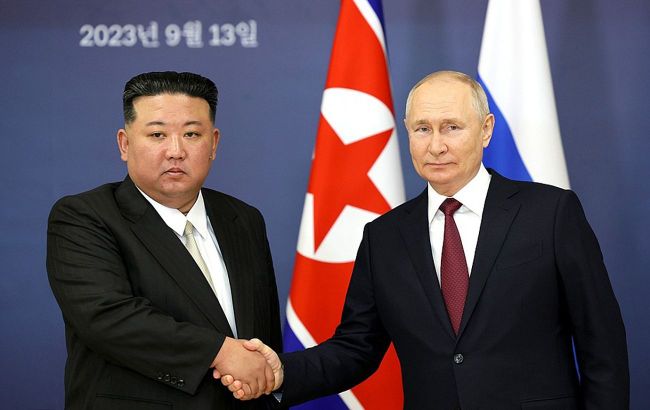 Kim Jong Un met with Vladimir Putin at the spaceport, but the results are still unknown (kremlin.ru)
A meeting between the leaders of North Korea and Russia, Kim Jong Un and Vladimir Putin, took place at the Vostochny Cosmodrome. The dictators promised support to each other, but there is currently no information on specific agreements.
What happened during the meeting in Russia - read below on RBC-Ukraine.
Meeting at the cosmodrome: What happened in Russia
The two dictators met in the Far East of Russia at the Vostochny Cosmodrome. During the meeting, Kim Jong Un, who has a keen interest in the construction and launch of ballistic missiles, had the opportunity to inspect their details and posed professional questions to the Russians. According to The Guardian, Putin may have offered Kim assistance with satellite launch programs in exchange for projectiles and weapons.
North Korea has made significant progress in the production of ballistic missiles (including those theoretically capable of reaching the U.S.) and nuclear warheads. However, the country has not yet achieved a breakthrough in satellite launches. It has failed twice in 2023 to launch a military satellite into orbit.
Photo: Meeting at the Vostochny Cosmodrome was of great importance, as Kim dreams of building rockets (kremlin.ru)
For Putin, this was a rare opportunity to meet with one of his true allies. North Korea backed Russia since 2014, not condemning the annexation of Crimea or the full-scale invasion and consistently voting against UN General Assembly resolutions on Ukraine. It recognized the independence of the so-called "Luhansk and Donetsk People's Republics" and legitimized "referendums" on the occupied territories of Ukraine.
In August 2023, Kyrylo Budanov, the head of Ukraine's Defense Intelligence, stated that the transfer of 152mm and 122mm projectiles and rocket artillery from Pyongyang to Moscow was already underway, a blatant violation of UN Security Council resolutions. Additionally, Russia's Foreign Minister Sergei Lavrov announced that Russia would no longer support sanctions against Pyongyang, as it had in recent years.
Kim Jong Un expressed full support for any Russian actions, and the ties between the two states reached a "strategic" level. When asked if his country would indeed assist North Korea in building satellites, Putin replied, "This is exactly why we met. Their leader has a great interest in engineering."
"Russia will mobilize production, but they will still be short of projectiles in the end. So they will most likely import from any available sources to cover the deficit," explained Michael Kofman, a senior fellow at the Carnegie Endowment for International Peace, according to The Guardian.
Andriy Yusov, a representative of Ukraine's Defense Intelligence, stated that Kim met with Putin because Russia indeed has significant problems with "modern, high-precision, and high-tech weapons" among other issues. Otherwise, Russia would not seek assistance from a state like North Korea.
The spaceport meeting also sent a signal to Seoul, South Korea, a major arms producer, not to supply weapons to Ukraine. "The Russians are very concerned about numerous arms shipments from the South to Ukraine," Andrei Lankov, a specialist on the Korean Peninsula from Kookmin University in Seoul, told The Guardian.
Kim Jong Un will continue his visit to two more cities in Russia's Far East: Komsomolsk-on-Amur (to visit an aircraft factory) and Vladivostok (to explore the capabilities of the Pacific fleet), as reported by AP.
Kim Jong Un's big dream faces challenges
According to Reuters, North Korea may need help soon, as its technicians have promised a new attempt to launch the Chollima-1 satellite in October of this year. Since 1998, North Korea has made six launch attempts, two of which were likely successful. North Korea has sought cooperation with Russia since 2015, supposedly for "peaceful space exploration."
In 2021, during the party congress, Kim presented a "wish list" that included satellites for military reconnaissance. Chollima-1 was developed specifically for this request and has a new rocket design. Its engines could have been taken from the intercontinental Hwasong-15 missile (a typical example of technical cannibalism in North Korea) based on Soviet developments.
Photo: Despite big ambitions, Kim Jong Un has so far failed to launch a combat satellite into orbit (Getty Images)
The last launch of Kwangmyongsong-4 took place in 2016, but it is still unknown whether that satellite transmitted anything to Earth before it deorbited on June 30, 2023. Officially, Pyongyang claims its purpose was "crop monitoring and weather observation."
Recently, North Korea managed to collect parts of a rocket and even a satellite for research. "As far as we know, North Korea has quite limited capabilities in satellite construction. None of them seem to have significant value," Brian Weeden from the Secure World Foundation said to Reuters.
Experts interviewed by NK News stated that "North Korea's latest satellite will soon burn up in the atmosphere." They referred to Kwangmyongsong 3-2, launched in 2012. Marco Langbroek, a lecturer at Delft University of Technology, believes it has only about a week left, and due to its small size, it will completely burn up in the atmosphere.
"It's a dead piece of metal and was like that probably a week after launch," said Jonathan McDowell of the Harvard-Smithsonian Center for Astrophysics.
Regional development and joint projects: What Kim was promised in the Russian Far East
Another NK News report mentioned that Oleg Kozhemyako, the governor of Russia's Primorsky Krai, discussed regional development, tourism, and construction with Kim Jong Un. North Korean workers were frequently employed in construction before the Covid-19 pandemic. Kozhemyako previously talked about the desire to build an industrial and trade park with China and North Korea. Pyongyang was expected to provide "large labor resources," which could violate sanctions against North Korea prohibiting such practices.
Putin and Kim may have also discussed the restoration of a railway branch from the Russian settlement of Hasan to the North Korean port of Rajin, as well as humanitarian aid. Moscow offered Pyongyang and Beijing to conduct joint military drills. This happened during Russian Defense Minister Shoigu's visit to Pyongyang on August 25-27.
However, there is currently no information about the signing of any agreements between Kim Jong Un and Vladimir Putin following their face-to-face meeting. Many issues remain unclear, and North Korea's closed borders raise questions about the receipt and distribution of humanitarian aid. It is also unknown in what condition the projectiles that Kim may have promised actually are.
Earlier, RBC-Ukraine provided an overview of world media coverage of Kim's trip to Putin. Western experts had doubts that the North Korean dictator would obtain the desired Russian military technology.
There are concerns about possible cooperation in supplying projectiles for the war against Ukraine. North Korea stores millions of rounds of rifled and rocket artillery in its warehouses. In recent times, Russia has faced their shortage.
However, Ukrainian experts have significant doubts North Korea is capable of providing Russia with what it needs.
For more details, read the article "World outcasts: Why Putin seeks alliance with North Korea and are there any threats to Ukraine."