What Putin could get from Kim Jong Un for Russia's war in Ukraine: World media review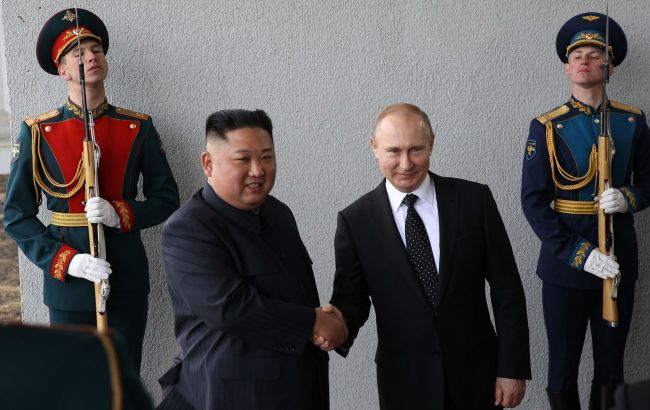 Kim Jong Un and Vladimir Putin (Getty Images)
The dictator of North Korea, Kim Jong Un, heads to Russia on his first foreign trip in nearly four years. He is set to meet with his colleague Vladimir Putin. Moscow is in urgent need of weapons, while Pyongyang requires food and other essential items.
What could come out of this trip and what is foreign media saying about it - read on RBC-Ukraine.
U.S. threatens sanctions over Kim's visit to Russia
The Guardian described Kim's first trip to another country in four years. North Korea's borders remain largely closed (no tourism for a long time), so every such event is truly significant. Kim's train initially arrived at the Khasan station, located in the Primorsky Krai of Russia. The path then led to Vladivostok.
Kim was accompanied by officials from the country's military and arms industry. A meeting with Putin could take place on Wednesday, September 13, after the Eastern Economic Forum in Vladivostok. Initially, delegations will meet, and then, if necessary, Kim and Putin will hold a closed-door conversation. It is entirely possible that the two dictators will sign an agreement on the supply of ammunition to the Russian army, writes The Guardian.
Photo: Kim Jong Un on his first trip in 4 years on an armored train (Getty Images).
Kim may request assistance with energy and food, as well as advanced satellite technology for his small fleet of nuclear submarines (although they are quite outdated by modern standards). Experts interviewed by the media doubt the possibility of such an exchange.
Leif-Eric Easley, a North Korea specialist from Ewha University in Seoul, said, "Putin is unlikely to provide Kim with technology to reduce nuclear bombs or operate nuclear submarines because military machines do not give away their biggest secrets even in desperate situations."
The United States has reacted as expected: threatening sanctions against both regimes for any arms deal. But since North Korea already lives under dozens of sanctions, finding additional measures seems like a challenging task. Moreover, North Korea has a rich history of selling weapons to conflict parties, such as Syria, Libya, and Hezbollah. Russia is unlikely to be an exception.
Millions of shells in warehouses: what exactly North Korea can provide to Putin
North Korea has not been involved in active combat since the end of the Korean War in 1953 (excluding the deadly shelling of a South Korean warship and island). The country has many rockets and artillery shells in its arsenals, as Time reports. Most of this weaponry dates back to Soviet times, but their quantity may be sufficient for Russia to continue its war of attrition.
In December of this year, the White House told Reuters that North Korea had already sold weapons to the Wagner Group. At that time, both sides denied the accusations.
In July, Russian Defense Minister Sergei Shoigu visited Pyongyang and attended a parade marking the 70th anniversary of the armistice in the Korean War (which is technically ongoing since there is no peace agreement). Thus, the groundwork for a meeting between Putin and Kim was already laid.
Photo: North Korea has many Soviet-era shells it can provide to the Russians (Getty Images)
But what's even more interesting is what kind of weaponry Russia can request from North Korea. Al-Jazeera posed this question to Bruce Bechtol, a professor in politics at Angelo State University in the US who has published books on the North Korean regime and its military proliferation.
Bechtol believes that Kim could offer Putin 152mm artillery guns and different kinds of multiple rocket launchers, as well as small arms such as the Type 73 light machine gun, AK-47 assault rifle, and the ammunition necessary for such systems.
Reuters suggests that North Korea might sell 107mm shells for the Katyusha MLRS, 122mm rockets, and 155mm artillery shells. Bechtol explains that there are two reasons why Russia has turned to North Korea. "Either the situation in the Russian military is much worse than is known, or they are preparing for a major offensive, which requires additional supplies."
Not just Soviet weapons: cooperation could deepen
In-bum Chun, a retired Lieutenant General in the South Korean army and an expert on North Korea's military and politics, to whom Al-Jazeera also turned for comment, assures that the country could offer a "full range of conventional weapons" as well as drones, portable shoulder-fired missiles (MANPADS), and "a very capable anti-tank system called the Bulsae, which is similar to the Russian Kornet".
It is not difficult to imagine that Russia has long been covertly assisting North Korea with its nuclear and missile programs, albeit not as openly as China. However, relations between Moscow and Pyongyang began to develop more actively only with the start of Russia's full-scale invasion of Ukraine. Bechtol points out that Kim Jong Un's new supersonic missiles bear a striking resemblance to Russian Iskander missiles, which are currently being used in attacks on Ukraine.
Photo: North Korea could not develop its missile industry without the participation of Russia (Getty Images)
One of the most famous experts on North Korea, Victor Cha from the Center for Strategic and International Studies in Washington wrote with Ellen Kim a commentary: "...now Russia is one of the biggest helpers of North Korea, even bigger than China. Beijing has opposed a new nuclear test, but has done nothing to bring Pyongyang to nuclear disarmament talks. But agreements with Moscow can speed up the development of programs related to military satellites, intercontinental ballistic missiles and submarines."
CNBC writes about further cooperation between Moscow and Pyongyang in the field of strategic weapons. In fact, any such deal could go much further than just trading in outdated Soviet weapons. We are primarily talking about two nuclear states. Potentially, this could result in the exchange of technology and intelligence data for the development of weapons of mass destruction on both sides.
One of Kim's latest big rockets, the Hwasong-18, may be a visible result of such cooperation, according to CNBC, citing American researchers. It bears a striking resemblance to the Russian Topol-M ICBM (intercontinental ballistic missile). It is solid-fueled, which significantly speeds up launch preparation and reduces the time it can be detected. The author of the report, MIT Professor Theodore Postol, sees Moscow's hand in Pyongyang's unexpected development of such advanced capabilities "The sudden appearance of such advanced capabilities cannot be explained without cooperation with the Russian government and scientists."
"In the near future, the main concern is that Russia may provide North Korea with new ballistic missile technology," Victor Cha wrote in another analysis. He adds that the North Korean regime desires it even more than food for its citizens.
For more details on Russia's cooperation with North Korea, read the article on RBC-Ukraine.