Putin, Kim Jong Un prepare for arms supply talks - White House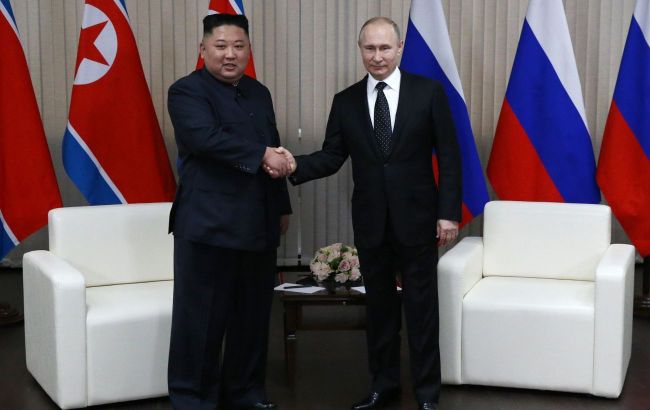 The leader of North Korea, Kim Jong Un, and the Russian dictator Vladimir Putin (photo: Getty Images)
The leader of North Korea, Kim Jong Un, intends to collaborate with the Russian dictator Vladimir Putin to actively advance negotiations between the two countries regarding arms transfers to Russia, states Adrienne Watson, a representative of the US National Security Council, according to CNN.
According to a White House spokesperson, the US government has information that Kim Jong Un anticipates the continuation of these discussions, including diplomatic interactions at the leader level with Russia.
This was her statement regarding arms negotiations between Russia and North Korea, which had previously been reported in the media.
However, Watson did not specify when a potential meeting between Kim and Putin in Russia might take place.
The White House also reminded that US officials stated last week that North Korea and Russia are "actively engaging with each other and advancing" their negotiations on another potential arms deal, which could lead to Pyongyang providing weapons to Moscow to support full-scale military aggression against Ukraine.
Watson added that the July visit to North Korea by Russia's Defense Minister Sergei Shoigu was made to "attempt to persuade Pyongyang to sell artillery ammunition to Russia."
She emphasized that the United States is calling on North Korea to "cease negotiations on arms with Russia and abide by the public commitments made by Pyongyang not to supply or sell weapons to Russia."
Cooperation between Russia and North Korea
North Korea openly supports Russian aggression against Ukraine and, according to US information, has been supplying ammunition to the Wagner Group militants since the beginning of the year.
Recently, US Secretary of State Antony Blinken stated that additional sanctions would be imposed on North Korea or any other country that supplies weapons to the Russians.
At the end of last year, the US claimed that North Korea had supplied infantry rockets and rockets for use by the Wagner Group to Russia. According to John Kirby, the Coordinator of Strategic Communications at the US Department of State, the potential deal under discussion would provide significant ammunition for various types of weaponry, including artillery.
On September 4, The New York Times reported a possible meeting between Kim Jong Un and Putin in Russia. It is expected to take place this month, during which the parties intend to discuss arms supplies.