Potential threat of Wagner mercenaries from Belarus to Kyiv being monitored, Ukrainian intelligence reports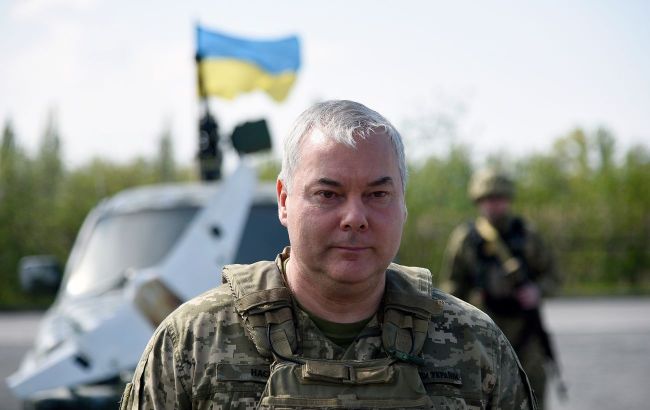 Serhii Naiev, Commander of the Joint Forces of the Armed Forces of Ukraine, Lieutenant General (Photo: Vitalii Nosach, RBC-Ukraine)
According to Serhii Naiev, Commander of the Joint Forces of the Armed Forces of Ukraine, Lieutenant General, the likelihood of a Wagner PMC advance from Belarus towards Kyiv exists, there is currently no imminent threat. Ukrainian intelligence is actively monitoring the situation, and the military command is taking measures to prevent any successful hostile actions.
"The notion of a renewed advance towards Kyiv has never been dismissed. We recognize that the hostile intentions depend solely on decisions made by the higher political leadership of the Russian Federation. Therefore, given these circumstances, the probability does exist, but as of now, it lacks the necessary resources and means to be realized," Naiev highlighted,
However, he cautioned that this does not imply that the Wagner mercenaries won't attempt such an advance in the future.
"Everything hinges on 'A' - decision-making and 'B' - the availability of resources and means," he added.
Naiev revealed that continuous reconnaissance is being conducted along the border, and timely information is being conveyed to the leadership of the Ukrainian Armed Forces and relevant commanding officers.
"Considering these factors, the command is striving to enhance our capability to prevent successful hostile actions along the Kyiv direction. In anticipation of potential future threats, we are mobilizing the heads of regional military administrations and other components of defense and security," Naiev detailed.
Wagner mercenaries in Belarus
Following an unsuccessful coup attempt involving the founder of Wagner Private Military Company, Yevgeny Prigozhin, in Russia, a portion of his militants found refuge in Belarus. They are currently stationed in a makeshift camp.
Presently, the camp houses over 3,500 Wagner mercenaries. On July 20, it was revealed that Belarusian special forces and hired fighters would conduct joint exercises.
Ukrainian border officials note that, for the time being, these militants in Belarus do not pose a direct threat to Ukraine. However, the possibility of provocations cannot be ruled out.
Recently, the Prime Minister of Poland stated that Russia and Belarus had dispatched around a hundred Wagner mercenaries to the Suwałki corridor. This strategic area links Poland with Lithuania and other Baltic nations, while also separating Russia's Kaliningrad region from Belarus.
Additionally, the Prime Minister of Poland, Mateusz Morawiecki, and the President of Lithuania, Gitanas Nausėda, have expressed concerns that Wagner PMC mercenaries in Belarus might instigate provocations along the NATO countries' borders.
In response, NATO is likely to view these provocations by Wagner mercenaries as actions supported by Russia.
Moreover, the Security Service of Ukraine has reported that Russia intends to exploit Wagner PMC for drawing Belarus into a full-scale war against Ukraine. Allegedly, plans are in place for an attack on the Mazyr Oil Refinery.