'Wagner in Belarus is a danger, but not yet a threat', Commander of the Ukrainian Joint Forces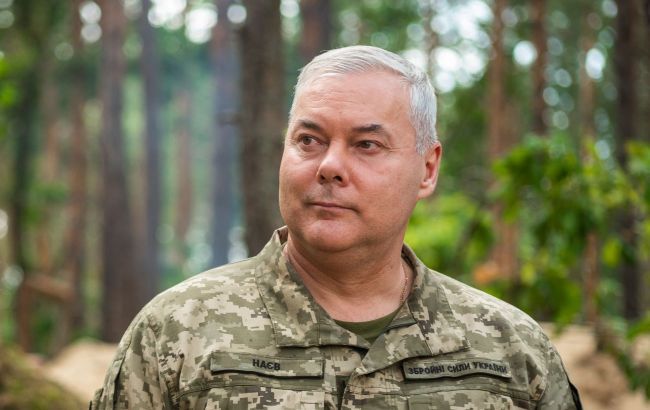 Serhii Naiev, Commander of the Joint Forces of the Armed Forces of Ukraine (Photo: Press service of the Joint Forces of the Armed Forces of Ukraine)
In an interview with RBC-Ukraine, Lieutenant General Serhii Naiev, Commander of the Joint Forces of the Armed Forces of Ukraine, discussed the defense of the skies over Kyiv, the operational situation at the border, and the activities of the Wagner Group in Belarus.
In an exclusive interview with RBC-Ukraine, General Naiev provided insights during his visit to the Rivne region, where ongoing efforts to fortify the border are underway. According to Naiev, there are currently no indications of imminent enemy preparations for a ground offensive in this sector.
"Predicting the future is an uncertainty at this moment. We always prepare for the worst-case scenario. We must be ready for the most adverse outcome. Presently, there is no literal threat, but it could emerge later. To initiate offensive actions, the adversary would require at least one and a half months to amass necessary forces," shared the general.
Wagner Group's presence in Belarus is not yet a threat
Naiev disclosed that within the operational zone North, there have been four attempts by enemy sabotage reconnaissance groups to breach the border. The enemy's movement originated from Russian territory, while direct intervention from Belarus was not observed.
"Unfortunately, there hasn't been an opportunity to capture Russian Armed Forces personnel as prisoners of war in any instance, as the enemy always withdrew under heavy artillery and mortar fire, evacuating all wounded and killed immediately," he revealed.
Following the interview, news emerged of another attempt by an enemy sabotage reconnaissance group to infiltrate Ukraine from the Sumy region. Ukrainian Armed Forces repelled the attack.
Moreover, Naiev reported that in late July 2023, following an unsuccessful military coup in Russia, significant forces of Wagner Private Military Company were redeployed to Belarus. However, currently, there are no indicators indirectly pointing to military threats. Yet, the possibility of artificially destabilizing the situation on NATO's eastern flank cannot be ruled out.
"Considering that Russia hasn't achieved its strategic objectives, the search for new opportunities to artificially destabilize the situation on NATO's eastern flank, especially along the borders with Poland, Lithuania, and Latvia, cannot be dismissed. The main aim of such actions could be to divert attention from Ukraine, redirect resources of Poland and Baltic states to their security, and complicate the supply of military material and technical assistance to our country," he explained.
Photo: Border strengthening operations underway in the Rivne region (Press service of the Joint Forces of the Armed Forces of Ukraine)
According to Naiev, Wagner PMC mercenaries are already assisting in training Belarusian military personnel. Training under their guidance encompasses offensive tactics, combat in urban and wooded terrain, and bolstering unit resilience. Mercenaries also share combat experiences gained during their engagements with Belarusian forces.
"Currently, up to 6,500 Wagner PMC mercenaries are present in the territory of the Republic of Belarus. In military doctrine, two concepts are recognized: military danger and military threat. For civilian understanding, if a car is approaching, it's a danger; if it's heading directly towards you, it's a threat. Therefore, Wagner PMC's presence in Belarus poses a danger, but when they form specialized sabotage reconnaissance groups or a ground offensive formation, that will indeed become a tangible threat," Naiev emphasized in response to inquiries about the potential threat posed by the Wagner Group to Ukraine.
The effectiveness of air defense operations depends on supplies
Addressing the potential for a renewed attack on Kyiv, Naiev remarked that such a scenario had never been dismissed. However, the hostile intentions rest solely on decisions made by the higher political leadership of the Russian Federation.
"Everything hinges on A – the decision-making process, and B – the availability of forces and resources. Hence, our intelligence continuously monitors the situation and timely relays information to the leadership of the Ukrainian Armed Forces and relevant commanders of units. Given this context, we are doing everything possible to enhance our capability to prevent successful hostile actions along the Kyiv direction," he explained.
The general also explained the tactics employed by the enemy in deploying the Shahed-131/136 combat drones, which have recently undergone noticeable changes. These drones are primarily used at extremely low altitudes during the night, and their flight paths are constantly altered.
"The challenge in intercepting these drones lies in accurately predicting their flight routes for a timely response by mobile firing groups, as their detection is currently primarily acoustic (based on engine sound). Determining their flight direction at night is quite complex. Engaging an aerial target without knowing its precise position in the airspace is a challenging task. However, it's worth noting that we are working to tackle this. Autonomous systems equipped with radar have a clear advantage in detecting aerial targets," he added.
The general also detailed the layering of Kyiv's air defense system, involving various complexes strategically positioned, considering their capabilities to engage airborne targets in terms of both altitude and distance. This includes mobile firing groups armed with MANPADS and small and medium-range SAMs.
Regarding predictions for autumn and winter, Naiev didn't rule out the possibility of Russia continuing attacks on critical energy infrastructure.
"The adversary seeks to inflict maximum harm upon us. For these actions, they might resort to anything that worsens the situation for Ukraine and its people. Therefore, we have already begun preparations to safeguard our energy infrastructure and enhance the effectiveness of our air defense system. Nonetheless, we must understand that to a certain extent, our ability to counter enemy UAVs and missile strikes on critical energy facilities depends on the supplies of air defense assets provided by our partners. The more equipment we receive, the better we can thwart successful strikes by enemy drones and rockets on critical energy facilities," he emphasized.
Moreover, Naiev stated that since the withdrawal of Russian military forces from the Kyiv and Chernihiv regions to Belarusian territory on April 7, 2022, there have been no airspace violations in the northern operational zone. However, he cautioned that any airborne target from Belarus would be considered by Ukraine primarily as a means of aerial attack or a military support facility and would be subject to immediate engagement. The Belarusian side is acutely aware of it.
Borderlands under constant shelling
The general provided crucial insights into the escalating situation along the border between the Chernihiv and Sumy regions of Ukraine. The regions have been witnessing a relentless barrage of long-range artillery and mortar attacks targeting both military installations and civilian infrastructure. Tragically, these attacks have resulted in civilian casualties and injuries, and there has been significant damage to residential buildings and other essential civilian structures.
"To mitigate the loss of civilian lives in these border areas, military command, in collaboration with regional military administrations and local governing bodies, has undertaken educational efforts aimed at informing civilians about appropriate actions during shelling," the general stated. "Additionally, designated shelters are being established, and a plan is in place to relocate civilians up to 5 kilometers away from the border settlements that are under continuous enemy shelling."
Serhii Naiev also commented on the activities of the Russian Volunteer Corps (a faction operating within the Ukrainian Armed Forces - Ed.). Notably, in one of their recent raids, the RVC extended an offer of refuge to Russian civilians within Ukraine.
Photo: Soldiers are clearing the border (Press service of the Joint Forces of the Armed Forces of Ukraine)
Highlighting the gravity of these actions, the general emphasized that such incursions have prompted the adversary to bolster their troop concentrations along the border, while simultaneously enhancing combat readiness measures. An elaborate network of observation posts is being expanded, and there is a notable deployment of supplementary reconnaissance and artillery assets. Furthermore, an upswing in the deployment of terrain-specific engineering and fortification equipment is evident, accompanied by persistent training exercises for counter-sabotage reserves.
Nevertheless, in discussing the work of the Russian Volunteer Corps, Naiev added that actions aimed at liberating Ukrainian territory and minimizing civilian casualties resulting from engagements with the adversary have consistently garnered a positive response.