Police in Kharkiv region comes under fire while heading to detain collaborators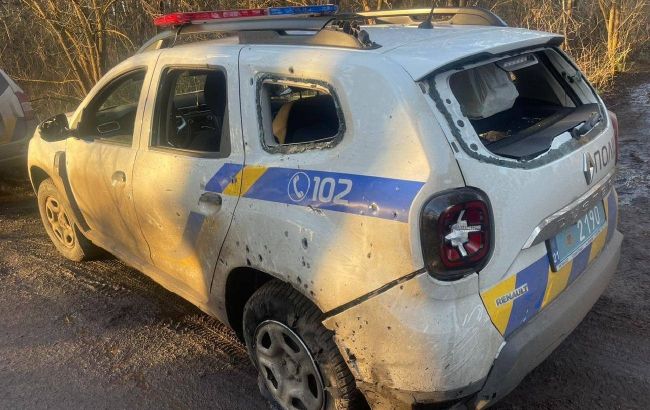 Photo: Russians detonated an explosive device on the police in the Kharkiv region (facebook.com/Serhiy_Bolvinov)
The Russian army detonated an explosive device in a police car in the Kharkiv region. At that moment, law enforcement officers were heading to detain collaborators, as reported by Serhii Bolvinov, Head of the Kharkiv Police Investigation Department.
The enemy targeted a law enforcement and investigative team. The incident occurred in the village of Dvorichna in the Kupiansk district.
As law enforcement officers report, there were three people in the car: an investigator, a district police officer, and an operative behind the wheel. The police immediately realized that they were being pursued by an enemy drone, but they couldn't escape from it.
The operative ordered everyone to jump out of the car, after which an explosion occurred. The occupiers threw a grenade at the rear of the vehicle. Fortunately, all law enforcement officers survived, but they suffered concussions.
As indicated, at the time of the attack, the police were en route to apprehend collaborators.
Photo: Russians detonated an explosive device on the police in the Kharkiv region (facebook.com/Serhiy_Bolvinov)
The situation in the Kharkiv region
Russian occupiers seized the border areas of the Kharkiv region in the first weeks of the full-scale invasion. Last fall, Ukrainian military forces liberated almost the entire territory of the Kharkiv region.
However, after the de-occupation, the Russians daily shelled the Kharkiv region. The Kupiansk district is particularly affected. In addition, recently the occupiers have intensified attacks on the Kupiansk direction to reach the Oskil river.
Yesterday, the occupiers shelled Kupiansk-Vuzlovyi with the Uragan MLRS. As a result of the attack, one man was killed.