On eve of possible Russian strikes on energy sector: Is Ukraine's air defense system ready?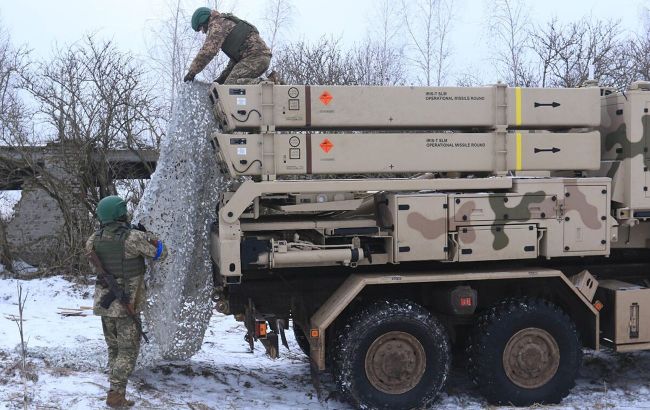 Is Ukrainian air defense ready for Russian missile strikes on the energy sector (Photo: armyinform.com.ua)
For several months, government representatives have been requesting additional air defense systems from partners to defend against Russian missiles and drones.
Both Ukrainian and foreign intelligence sources indicate that Russia is once again targeting the destruction of our energy infrastructure this year. Given that the heating season is starting in cities across the country, a new campaign of Russian terrorist shelling is expected in the coming weeks.
However, the previous intense fall-winter campaign affected Russia and Ukraine. In April of this year, leaked Pentagon documents revealed that Ukraine was running out of Soviet-made anti-aircraft missiles for the S-300 and Buk-M1 air defense systems.
Representatives of Ukraine's military-political leadership confirm this shortage. According to Yurii Ihnat, the Spokesperson of the Air Forces Command of the Armed Forces of Ukraine, there is a severe deficit of anti-aircraft missiles for Soviet-era systems and the necessary spare parts.
In the same Pentagon leaks, it was revealed that the U.S. plans to launch the "FrankenSAM" project (a combination of Frankenstein and SAM for Surface-to-Air Missile) to improve the state of Ukrainian air defense. Recent reports from Western media have disclosed details of this project.
U.S. and Ukrainian engineers have adapted Buk systems for use with American RIM-7 missiles. Experts have also created an improvised anti-aircraft system for AIM-9M Sidewinder missiles in this project. While these solutions may somewhat enhance Ukraine's air defense, they are unlikely to be a panacea. There is currently no information on a similar scheme for S-300 systems.
The problem of a deficit of Soviet-era anti-aircraft missiles is acute because the S-300 and Buk-M1 systems are still the backbone of the Ukrainian air defense. According to the International Institute for Strategic Studies (IISS), Ukraine had approximately 250 launchers of various S-300 modifications and an estimated 70-80 launchers for the Buk-M1 system. Since then, according to Oryx's calculations, Russia has managed to destroy only 66 S-300 launchers and 15 Buk launchers. These are just the data confirmed through the study of photos and videos, but they provide an approximate picture of the situation.
The quantity of Western systems provided by partners is incomparable to the existing fleet of S-300 and Buk systems, even though there are similar problems with some of the systems transferred to Ukraine. Moreover, there are too few long-range systems in Ukraine in case Russia decides to attack our energy facilities with Iskander, Kinzhal, or Kh-22 missiles.
"What has been provided to us cannot replace the quantity of S-300 or Buk systems we have. Calculations as of 2016 showed that even with 60 air defense divisions, we had too few. Even with such coverage, we still had blind spots. So, even if we simulate that NASAMS and Iris-T are equivalent replacements for our existing S-300s, we still have blind spots. Therefore, we need as much as possible, and even that will be insufficient," explains Ivan Kyrychevskyi, an expert from the Defense Express Media and Consulting Company.
One solution in the face of a shortage of SAM systems is the creation of mobile fire groups, primarily protecting Ukraine from drones and, when possible, attempting to intercept missiles.
So, the answer to whether Ukrainian air defense is prepared for possible fall-winter attacks is that it's ready to the extent allowed by available resources. Despite improvements in quality, there are still gaps in the quantity of our air defense, according to Kyrychevskyi.
As reported earlier, Russia has recently accumulated missiles, especially Kalibr and Kh-101. At the end of August, RBC-Ukraine conducted a detailed analysis of what Moscow can produce and what reserves it may have. Overall, Russia can make up to 120 missiles of various types, with a range of over 500 kilometers, in a month.
One unsettling aspect for us is that the adversary has managed to increase the production of ballistic missiles. Another alarming factor is that the Russians have set up the production of Shaheds. Since they produced over 500 Geran-2 drones just in September, the enemy has no significant issues with this type of drone.
While Ukraine may be able to cope with the challenge that the Russians are likely to present, it cannot be guaranteed that our air defense will intercept 100% of the attacks. No country could cope with such intense missile and drone attacks.
Russia's strikes on energy infrastructure
Last winter, Russia shelled Ukraine's energy system, forcing Ukrenergo to implement emergency and planned power outages. The first disconnections occurred when it was necessary to balance the power system for higher capacity.
Minister of Energy Herman Galushchenko explained that power outages are possible in Ukraine during this fall-winter period in 2023-24 in the event of Russian occupant strikes on energy system objects. However, they will not be prolonged.
Recently, President Volodymyr Zelenskyy stated that this winter, Russian terrorists might resort to energy terrorism again, but on a larger scale.