North Korea transfers 1,000 containers of military eqpt to Russia: White House reports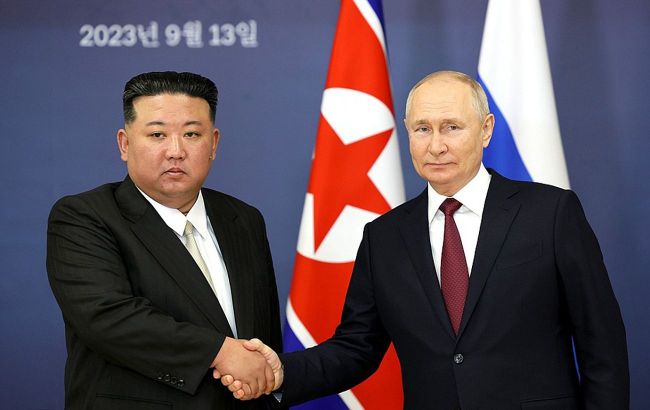 Vladimir Putin and Kim Jong Un (Photo: kremlin ru)
North Korea has provided Russia with one thousand containers of military equipment and ammunition amid the war in Ukraine, according to the Coordinator for Strategic Communications at the U.S. National Security Council in the White House, John Kirby.
"Due in part to our sanctions and export controls, Russia has been forced to desperately search around the world for military equipment," said National Security Advisor John Kirby to reporters.
He adds that the U.S. now has information that North Korea supplied weapons to Russia for use in Ukraine.
"We now have information that North Korea has delivered arms to Russia for use in Ukraine. Our information indicates that in recent weeks, North Korea has provided Russia with more than 1000 containers of military equipment and munitions," he added.
The weapons' route
On Friday, the White House released images showing the movement of these containers from North Korea to Russia.
Photo: Route (thehill.com)
"We condemn the DPRK for providing Russia with this military equipment," Kirby said, adding that the White House will monitor the situation and continue to expose such arms deals.
Kirby states that U.S. officials are closely monitoring whether Moscow will provide materials to Pyongyang.
"This expanding military partnership between the DPRK and Russia, including any technology transfers from Russia to the DPRK, undermines regional stability and the global non-proliferation regime," he said.
Russia-North Korea cooperation
On September 13, the dictators Kim Jong Un and Vladimir Putin met in Russia to discuss military cooperation. Prior to the meeting, Western media reported North Korea's intentions to provide Russia with artillery ammunition and weapons in exchange for technology.
At the same time, The Economist reported that Pyongyang had been supplying Moscow with artillery ammunition and Katyusha-type rockets for more than half a year.
Later, CBS News, citing sources, reported that North Korea had already begun to transfer artillery to Russia.