North Korea plans to launch ballistic missile with spy satellite by December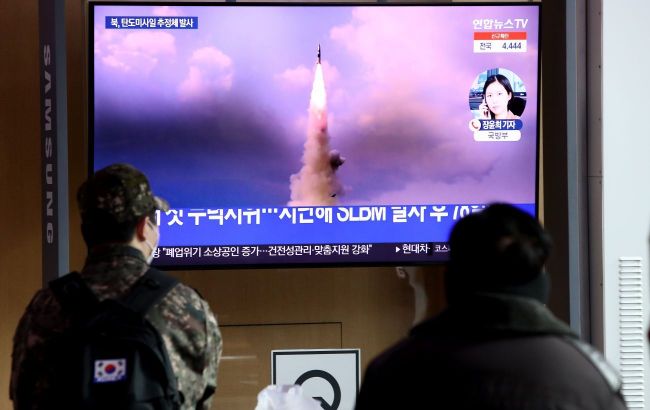 North Korea plans to launch a ballistic missile with a satellite (photo: Getty Images)
North Korea has informed Japan of its plan to launch a carrier rocket with a satellite during a new nine-day window, following two unsuccessful attempts to orbit a military reconnaissance satellite earlier this year, according to Kyodo.
According to Japan's Coast Guard, the launch window is set to commence at 00:01 on November 22 and will close at 23:59 on November 30.
Upon receiving this information, Japanese Prime Minister Fumio Kishida instructed his government to attempt diplomatic efforts to persuade Pyongyang to abandon this plan, in coordination with the United States and South Korea.
"If North Korea uses ballistic missile technology, it would be a violation of UN Security Council resolutions, even if it is purportedly for a satellite launch," Kishida stated to reporters.
The Prime Minister emphasized that Japan would exert maximum efforts to gather and analyze information regarding the satellite launch.
The Japan Coast Guard has reported that the notification indicates three maritime danger zones, which are expected to be areas where rocket debris may fall: two to the west of the Korean Peninsula and one to the east of the Philippine island of Luzon.
Failed attempts by North Korea to place a spy satellite into orbit
In late May of this year, North Korea attempted to launch the spy satellite Malligyong-1 into orbit, but the carrier rocket lost its trajectory and fell into the Yellow Sea.
Subsequently, on June 16, South Korea retrieved several parts of the rocket and satellite from the sea floor. After analyzing the recovered details, experts concluded that the so-called satellite had no utility as a reconnaissance satellite.
North Korea made a second attempt to launch a satellite on August 23. Tokyo asserted that Pyongyang had utilized prohibited ballistic missile technology and that the projectile had passed through the airspace near Okinawa.