Night attack on Ukraine: Air defense landed 12 aerial targets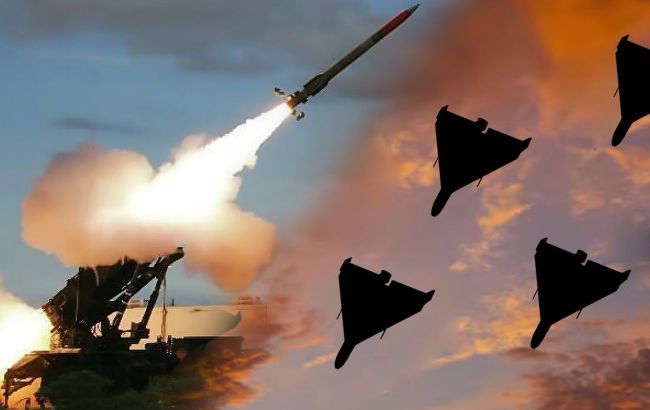 Photo: Night attack on Ukraine: Air Defense landed 12 aerial targets (collage by RBC-Ukraine)
On the night of September 17th, Russian terrorists launched an attack on Ukraine with cruise missiles and strike UAVs. The Air Defense Forces neutralized 12 aerial targets, reports the Ukrainian Air Force.
In total, 16 aerial attack assets were detected, including:
6 strike UAVs Shahed-136/131. The enemy launched drones from the southeast and south directions, specifically from Prymorsko-Akhtarsk and Chauda.
10 air-launched missiles X-101/X-555/X-55 fired from 9 Tu-95MS strategic aviation aircraft from Engel's region.
According to the Air Force, the main target of the attack was the southern Odesa region. Anti-aircraft defenses were deployed along the way of the missiles and UAVs. The following forces were involved in repelling the attack:
aviation
anti-aircraft missile units
mobile fire groups and other means of defense.
During the defense, 12 aerial targets were destroyed, specifically:
6 strike UAVs Shahed-136/131.
6 cruise missiles X-101/X-555/X-55.
"Incoming enemy missiles hitting the territory of a civilian agricultural enterprise in the Odesa region have been confirmed. The State Emergency Service is working on the scene, and local military administrations will report on the consequences," the press service informs.
Night attack on Ukraine
At around 04:50 AM in Kyiv and various regions, and later across the entire territory of Ukraine, an air alert was announced. Initially, the missiles were heading toward Kremenchuk and Uman but later changed course toward the Odesa region.
After some time, explosions were heard in the Odesa region, and the spokesperson for the Odesa Regional Military Administration, Serhii Bratchuk, reported the actions of the air defense.