New aid package and more: Zelenskyy reveals details of talks with Danish Prime Minister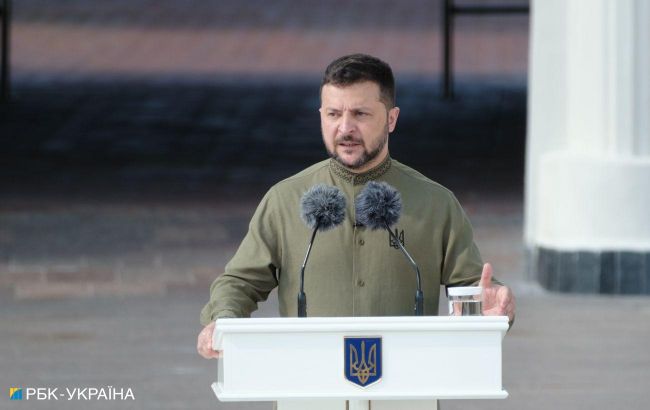 President of Ukraine Volodymyr Zelenskyy (Photo: Vitalii Nosach- RBC-Ukraine)
President Volodymyr Zelenskyy and Prime Minister of Denmark Mette Frederiksen have discussed the 12th package of support in the defense sector, according to an announcement of President Volodymyr Zelenskyy at a press conference with Prime Minister Mette Frederiksen.
"In Denmark, the training of our Ukrainian pilots for F-16 aircraft is ongoing. The Ukrainian military's task is to rapidly prepare the necessary infrastructure in our country, and this is one of the key missions that the defense forces are currently focused on," stated President Zelenskyy.
The President notes that both sides discussed expanding training opportunities for Ukrainian soldiers and accelerating the integration of modern fighter jets into Ukraine's defense. Ukraine expressed gratitude for the equipment and training provided for demining by Denmark.
"We have agreements on the localization of mine-clearing machine production. Today, I also raised this issue with the Prime Minister of Denmark. Perhaps, we can work in this direction with Danish companies," President Zelenskyy said.
Furthermore, President Zelenskyy invites Denmark and its companies to participate in the Defense Industry Forum scheduled for this fall.
President Zelenskyy also discusses with Prime Minister Mette Frederiksen the ongoing attacks by Russia on Ukrainian maritime ports and the possibilities for infrastructure protection.
"On September 9, the Danish Embassy's office in Ukraine will be officially opened, specifically in Mykolaiv. This is an extremely important example, a real demonstration of how solidarity can work towards the restoration of lives and the protection of people," he added.
The visit of the Prime Minister of Denmark and the U.S. Secretary of State to Kyiv
Today, on September 6, U.S. Secretary of State Antony Blinken arrived in Ukraine. Early in the morning, parts of the city center in Kyiv were partially closed to traffic, as is usually done before visits by international leaders or delegations.
According to CNN, Secretary Blinken is likely to announce over $1 billion in new funding for Ukraine.
In addition, the Prime Minister of Denmark, Mette Frederiksen, also arrived in Kyiv as part of this visit.